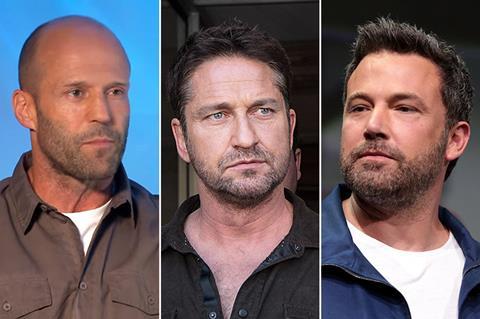 As talent flocks to the small screen and theatrical distribution continues to pose challenges, top-tier buyers at AFM have been laser-focused on pursuing only a handful of A-list projects.
The 40th anniversary edition of the market has reflected fiercer competition in the independent landscape as leaner acquisition teams chase what they regard as the sure-fire commercial bets.
At time of writing Lionsgate had snapped up North America, the UK and select territories on Gerard Butler action thriller The Plane from MadRiver International and CAA Media Finance, while MGM acquired the US and a handful of territories from Miramax on Guy Ritchie's thriller Cash Truck starring Jason Statham.
Buyers have been scrambling for those two titles, as well as Neill Blomkamp's sci-fi Inferno at AGC Studios, and thriller Hypnotic, the thriller from Robert Rodriguez starring Ben Affleck and set up at Solstice Studios and Studio 8.
These are the kinds of studio-level films independent buyers know they need to champion or risk losing them to studios or streamers. The latter may still end up taking a significant chunk of territories on some of these titles, which is why the summer success of Angel Has Fallen (Lionsgate distributed the Butler action thriller in the US and Millennium Media licensed around the world) and the $39.3m global opening weekend and number one North American debut of AGC Studios' Roland Emmerich war film Midway (distributed by Lionsgate in North America) offer encouragement.
Of course, trade continues apace on available titles across a broad range of genre, language and budget levels, although the consensus seems to be that mid-level fare will become a rare sight in the market as streaming platforms produce more content in-house to satisfy their growing subscriber base.
AFM is locked into the Loews in its desireable Santa Monica locale for the foreseeable future and knows it has to accommodate market changes to remain an attractive destination. The common refrain from attendees that the hotel is expensive has not subsided, and top sellers prefer to conduct business from off-site hubs.
Trade relations and censorship in China has meant fewer attendees from the territory, and 17 companies from China and Japan were not housed under their respective umbrella trade stands due to unavailable resources.
AFM management has moved 42 exhibitors from the third floor, where they have traditionally shared offices with other companies, into booths on higher levels of the hotel. This is partly in response to requests for greater visibility, and no doubt partly in reponse to complaints over cost. And for the first time, 60 rooms have been rented to attendees as hotel guests to fill vacancies.
"We want to make sure the AFM is providing the opportunity for each company to participate in the way they want to participate," said AFM managing director Jonathan Wolf, who added that everybody in the market who needed to be at AFM was at AFM.
Looking to future iterations of the market, Wolf addded, "If the industry is making 10% fewer films and they're here, that's what matters." The market will issue full attendance figures in the coming days.