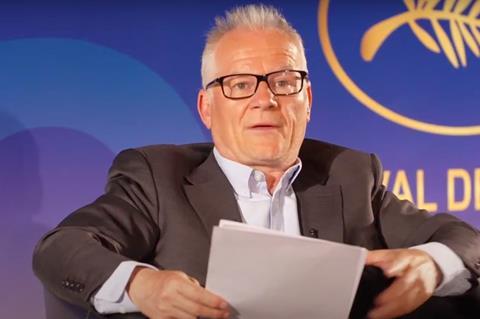 The Cannes Film Festival (July 6-17) has confirmed it will unveil the Official Selection for its 74th edition on June 3.

Festival delegate general Thierry Frémaux had previously announced in an interview with a French radio station that the line-up would be unveiled a week earlier on May 27.
Cannes head of communications Aïda Belloulid said Frémaux and festival president Pierre Lescure will take part in a press conference at its traditional venue of UGC Normandie cinema in Paris in the presence of journalists, thanks to the reopening of cinemas on May 19 after six months of closure.
Last year's announcement of the 2020 Cannes label was an online press conference only.
"We'll be respecting gauges of course," said Belloulid, referring to the 35% capacity limit for cinema audiences in place until June 9, when it rises to 65% to be lifted entirely on June 30.
Leos Carax's musical film Annette is set to open the festival, while Paul Verhoeven's Benedetta is also confirmed for competition.
There is growing confidence within the French film industry that the festival will go ahead as planned this year after last year's hiatus even if fewer international professional attendees are expected than normal.
French Covid-19 rates have started easing down in recent weeks, standing at a seven-day average of 14,386 cases a day as of May 16, while the country is on track to administer at least one dose of a Covid-19 vaccination to 30 million people, equivalent to two-thirds of the adult population, by mid-June.