Mafia tale Sicilian Ghost Story to open sidebar, Sundance hit Brigsby Bear selected as closer.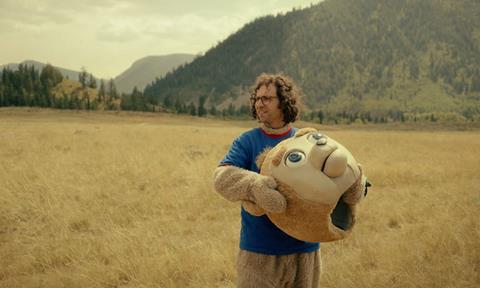 Cannes Critics' Week, devoted to first and second features as well as shorts, has unveiled the line-up of its 56th edition, running May 18-26.
Italian directors Fabio Grassadonia and Antonio Piazza will open the selection with their second feature Sicilian Ghost Story, a genre-mixing work following a teenage girl as she searches for the boy she loves after he is kidnapped by the Mafia.
It is inspired by the real-life tale of Giuseppe Di Matteo, the son of a former Mafia hitman-turned-informant, who was abducted in 1993.
Critics' Week artistic director Charles Tesson described it as a "staggering crossover between cinema genres, combining politics, fantasy and terrible teen love."
The directorial duo premiered their debut feature Salvo in competition in Critics' Week in 2013, winning the €15,000 Nespresso Grand Prize.
The screenplay for Sicilian Ghost Story was developed at the Sundance Screenwriting Lab and went on to win the Sundance Institute Global Filmmaking Award.
Dave McCary's comedy Brigsby Bear, starring Kyle Mooney as a child-like man obsessed by a children's TV character, will close the week.
The quirky comedy - also starring Claire Danes, Mark Hamill, Greg Kinnear, Matt Walsh and Michaela Watkins – was one of the hits of Sundance this year where it was acquired by Sony Pictures Classic.
Tesson described the film as, "a delightful debut feature taking us back to childhood on a road paved with dreams made of feature films."
Overall, 1,250 features were submitted to the Critics Week, which will screen 11 features in total, seven in competition and another four as special screenings.
Outside the opening and closing films, the two further special screenings are French films: Hubert Charuel's drama Bloody Milk revolving around a diary farmer's fight to save his infected herd from slaughter, and Thierry de Peretti's character-driven tale A Violent Life, set against the backdrop of Corsican politics and organised crime.
The competition includes for the first time a feature animation and feature documentary: Iranian director Ali Soozandeh's daring Tehran Taboo, an exploration of sexuality in the Iranian capital, and Emmanuel Gras's Makala, about a young man in the Congo who is determined to offer his family a better future.
Competition titles:
(in the words of Charles Tesson)
La Familia, the timely debut feature of Venezuelan film-maker Gustavo Rondón Córdova, about a father and his son who flee their highly dangerous suburb. In a context of continuous tension, father and son get to know each other during their urban wanderings across the city of Caracas which has never been filmed like this before. A revelation, a poignant film on paternal transfer of knowledge.
Los Perros is the second feature of Chilean filmmaker Marcela Said. Through a surprising and unpredictable female protagonist, the film settles accounts with the legacy of the Pinochet dictatorship and prevailing hypocrisy. Courageous, upsetting, bold, the film confirms its director's talent, following her acclaimed The Summer of Flying Fish.
Oh Lucy!, the first film by Japanese director Atsuko Hiranayagi, is a delicious bitter-sweet comedy about hearts hesitating between Japan and the Unites States. Three Japanese women, an American friend and a Japanese one join hands in this awkward trip. It is also a privilege to meet again with actor Josh Hartnett, along with wonderful actresses and the impressive Yakujo Kôji, who played in The Eel by Imamura, Palme d'or in 1997.
Gabriel and the Mountain, the second feature of the Brazilian director Fellipe Gamarano Barbosa, after Casa Grande, captures a journey to Africa by young idealist who believes his commitment and sense of charity is able to change the world. Despite the spectacular landscapes and the generous and sympathetic encounters, Gabriel stays trapped in his certainties of a civilised man.
Ava is a marvellously luminous film, both sensual and lyrical, a combination of sweet feeling and joyful fancy. In her debut feature, French film-maker Léa Mysius draws the portrait of our era, that of a generation facing the fear of a bleak future. Embodied by the fascinating actress Noée Abita, the heroin learns how to contain her personal demons, to take up challenges, she finds love and eventually confronts life.
In his first film Tehran Taboo, Ali Soozandeh depicts the mind-boggling and unconceivable picture of life in Teheran, a city where moral and sexual freedom are banished. The animation medium gives the necessary freedom to explore the forbidden side of Iran. Deeply humanistic, the film criticizes with both tenderness and humour the hypocrisy and the contradictions inherent in the system.
Makala, the second documentary film by Emmanuel Gras, the acclaimed director of Bovines, takes place in Congo, in the intimacy of a man's life and his commitment
to his trade and family. The story is retraced with an overwhelming amplitude and is magnificently narrated, retrieving the accurate value to the working effort and to the meaning of existence.
Short Selection
The selection's high-profile shorts competition – overseen by French film and TV critic Léo Soesanto – features 10 works.
These include UK director Moin Hussain's Real Gods Require Blood. Set in a troubled estate in the 1990s, it follows Alice who is roped into babysitting for a hysterical neighbour. Her two young charges claim to be visited each night by a creature that must be fed when the lights go out. Hussain was recently confirmed as a participant of the joint Bafta and BFI talent development initiative Bafta Crew.
As previously announced, Brazilian director Kleber Mendonça Filho will preside over the jury this year.
Critics' Week 2017 selection in full:
*first films, eligible for the Caméra d'Or
Opening Film
Sicilian Ghost Story, Fabio Grassadonia & Antonio Piazza (Italy)
Special Screenings (features)
Bloody Milk (Petit Paysan) Hubert Charuel (France) *
A Violent Life (Une Vie Violente), Thierry de Peretti (France)
Special Screenings (shorts)
After School Knife Fight, Caroline Poggi and Jonathan Vinel
Bad Bunny (Coelho Mau), Carlos Conceição
Islands (Les Iles), Yann Gonzalez
Closing Film
Brigsby Bear, Dave McCary *
Feature Films In Competition
Ava, Léa Mysius *
La Familia, Gustavo Rondòn Córdova *
Gabriel And The Mountain, Feliipe Gamarano Barbosa
Makala, Emmanuele Gras
Oh Lucy!, Atsuko Hirayanagi *
Los Perros, Marcela Said
Tehran Taboo, Ali Soozandeh *
Short Films In Competition
Los Desheredados, Laura Ferrés Moreno
Ela - Sketches On A Departure (Ela – Szkice na Pozegnanie), Oliver Adam Kusio
Children Leave At Dawn (Les enfants partent à l'aube), Manon Coubia
Jodilerks Dela Cruz, Employee Of The Month, Carlo Francisco Manatad
Möbius, Sam Kuhn
The Best Fireworks Ever (Najpiękniejsze fajerwerki), Aleksandra Terpinska
Real Gods Require Blood, Moin Hussain
Selva, Sofia Quirós Ubeda
Tesla: Lumière Mondiale, Matthew Rankin
Exposure (Le Visage), Salvatore Lista
Want more film industry insight? Get Screen International's print and online offering delivered to your doorstep and inbox from only £99. Find out more here.