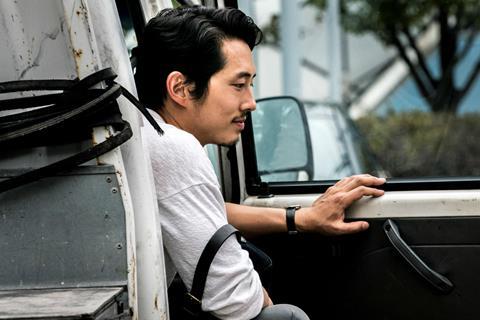 South Korean sales company Finecut has announced a raft of sales on Lee Chang-dong's Cannes Competition film Burning, led by deals to the UK (Thunderbird Releasing), Japan (Twin) and Spain (Vertigo Films).
The mystery-fueled thriller broke Screen's Cannes jury grid record with 3.8 out of 4 stars and picked up the FIPRESCI International Critics' Prize for Best Film at the festival, as well as this year's Vulcan Award, which went to the film's art director Shim Jeom-hee.
It also sold to Norway (Arthaus), Australia and New Zealand (Palace Films), Benelux (Imagine Film Distribution), Sweden (Folkets Bio), Turkey (Bir Film), Denmark (Camera Film), Greece (Seven Films), Russia and CIS countries (Provzgylyad), Poland (Aurora Films) and Romania (Voodoo Films).
Svend Jensen, Arthaus managing director, said, "Burning arrived late in the festival. After several good films already screened, it was great to experience an even better film at the end. A beautiful dream-like film, wonderfully acted and shot. A pure cinematic marvel, and a film the audience did not stop to discuss, even several hours or days after the screening. Burning is a film that stays with you for a long time, as only great films do."
Marie Strauss, head of Acquisitions at Folkets Bio, agreed: "I saw Burning at the end of the festival when I had already seen so many films and was pretty tired. But it's immediately very catching and it's one of the most intriguing films I've seen for a long time. It stays in your mind and it's also been a long time since such a unified industry is praising a film."
Previously announced deals include sales to France (Diaphana Distribution), China (Time-in-Portrait Entertainment), Hong Kong and Macau (Edko Films), Philippines (Viva Communications), Singapore, Malaysia and Brunei (Clover Films) and Taiwan (Hualien Media International).
Sally Li, general manager at Time-in-Portrait Entertainment, said, "As Lee Chang-dong is one of top directors in South Korea, the film is quality-guaranteed with him, and the leading actor Ah-in Yoo is very popular in China with a great reputation, plus, it's based on famous Haruki Murakami's novel - this luxurious combination makes the film a must-see.
Finecut reports "hot bidding" is on-going for territories in North and Latin America.
Released locally May 17, the film has taken more than $3m at the box office to date.