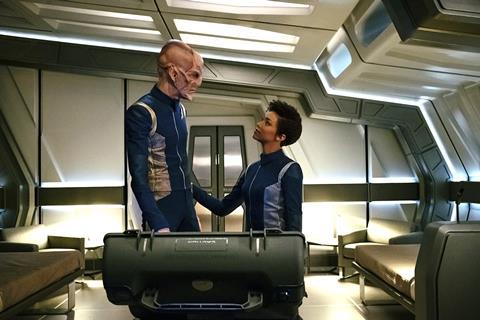 CBS has revealed plans to build a multi-use television and film production facility on a 260,000 sq ft site in the city of Mississauga, 18 miles from downtown Toronto.
CBS Stages Canada, which the US media giant hopes to open in mid-2019, will include six sound stages, production offices, support facilities and auxiliary services for large-scale television and film production.
CBS has secured a long-term lease on the Mississauga site and says it is "in the process of working with local and provincial officials on securing permits and drawing architectural plans for the facility."
CBS said the studio will provide additional production space for shows made by its CBS Television Studios division, which currently produces 63 series. The division already makes the Star Trek: Discovery (pictured) and In The Dark series in Toronto. Toronto-based production executives John Weber and Frank Siracusa, executive producers on Discovery, will oversee the development and ongoing management of the new facility.
News of the CBS facility follows the unveiling earlier this month of plans for a 400,000 sq ft studio complex in Markham, north Toronto. Backed by private investors, First Studio City will reportedly include 20 soundstages, one of 70,000 sq ft.
Earlier this year, Canadian media giant Bell Media bought a majority stake in Pinewood Toronto Studios, the area's biggest production facility, and said it plans to add new sound stages to the 11 already available.
The studio building announcements reflect the current high-end TV and film boom in the Canadian province of Ontario, where total production investment topped C$2bn ($1.53bn) for the first time in 2016.
CBS Television Studios president David Stapf said in a statement: "CBS has a strong production history in Canada. The Toronto area specifically has provided our series with diverse and appealing locations as well as production infrastructure and crafts expertise that cannot be easily found. These new stages will provide valuable resources and additional capacity for our Company's growing production slate."