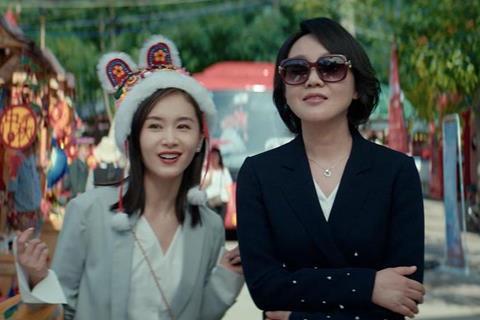 China is poised to overtake North America at the year-to-date box office imminently, possibly within the next couple of weeks.
Chinese box office so far in the most exceptional of years stands at approximately $1.9bn based on various reporting entities, while ComScore said on Monday (October 19) that North American box office through the weekend has reached $2.103bn.
However observers said while China has been expected to overtake North America at the box office for some years, accomplishments in 2020 must be processed through the unprecedented prism of the pandemic.
Despite a slow start over the national holidays in February when the pandemic was spreading rapidly throughout the country, Chinese box office has been making up some lost ground after nearly six months of cinemas closures.
Cinemas have mostly reopened and restrictions were relaxed last month to allow a maximum of 75% capacity.
The three-day weekend generated $46.4m following a 32% drop from the previous session, which itself followed the week-long National Day holidays.
Local hit My People, My Homeland stayed top over the weekend and added $19.1m for $360.3m and has overtaken Tenet's global haul of $334m.
North American box office is generating in the region of $10m-12m each weekend after cinemas reopened across parts of the country.
According to ComScore, approximately 49% of North American and 48% of US cinemas had reopened by last weekend. Cinemas in New York state have been given the green light to reopen once they satisfy infection level criteria.
Liam Neeson thriller Honest Thief just opened top on an estimated $3.7m through Tom Ortenberg's relaunched Open Road Films, beating Warner Bros' Tenet and 101 Studios' The War With Grandpa, which stand at $50.6m after seven weekends, and $7.3m after two, respectively.
"Certainly China will surpass North America at some point," said ComScore senior media analyst Paul Dergarabedian. "But it's inches, not yards, this year."
The gulf between box office in China and North America this year is likely to get wider by the end of the year after the US studios pulled most of their tentpoles from the calendar. However, like North America, China's 2020 tally will fall well short of the roughly $9bn it recorded in 2019.
North America generated $11.4bn in ticket sales in 2019. Year-to-date, box office in both markets trails the year-to-date levels of 2019 by around 76%.
Commentators believe once cinema-going returns to post-Covid patterns, North America could quickly regain its status as the world's number one market – although not for long.
In a recent interview with Screen, Jimmy Wu, CEO of Chinese exhibitor Lumiere Pavilions, said there was a "golden opportunity" for Chinese box office to grow while US cinemas remain closed, and possibly become the number one market in two years.
Wu added that growing China's per capita film-going and the number of films released each year were key.