Ryan Gosling, Dwayne Johnson, Edgar Wright, Jon Hamm on stage in Las Vegas.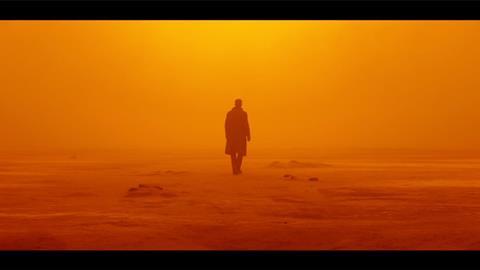 'Netflix my ass,' Sony Pictures Entertainment chairman Tom Rothman declared after showing early footage from Blade Runner 2049 to convention attendees on Monday.
It was a typically bold statement in a session on Monday evening that wasted no opportunity to extol the virtue of the theatrical experience and stress Sony's commitment to globally appealing, diverse content.
Minutes earlier Rothman had introduced the sci-fi sequel's star Ryan Gosling on stage at The Colosseum in Caesars Palace and revealed part of the film takes place in Las Vegas.
The Canadian leading man told attendees how shooting the sequel with Denis Villeneuve, Harrison Ford and the cast in Budapest had been a "surreal" experience.
Footage was predictably atmospheric and featured plenty of shots of a familiar dystopian skyline. In one chilling sequence Jared Leto's sinister character intones, "We make angels. But I can only make so many", as he watches a shivering human-like creature drop from a tube in front of him.
Sony co-financed Blade Runner 2049 with Alcon Entertainment and will distribute internationally. Warner Bros holds North American rights and releases on October 6.
Presentation highlights included Tom Holland on stage to talk up the July 7 release of Spider-Man: Homecoming before Sony showed the premiere of the second trailer.
Marvel Studios chief Kevin Feige stood beside the young star as well as producer and former Sony chief Amy Pascal and said the film was the first Spider-Man iteration to be part of the Marvel Cinematic Universe.
Feige added: "The whole idea is [Spider-Man] has been there the whole time."
Footage showed the web-slinger struggling to save an imperilled ship, as well as Michael Keaton looking suitably dastardly as The Vulture. Footage was interspersed with scenes of the superhero's alter ego Peter Parker talking to his mentor, Tony Stark.
Edgar Wright and his Baby Driver stars Angel Elsort and Jon Hamm kicked off the session with the first scene from the action-thriller, which recently premiered at SXSW and has been moved up to June 28 release from August 11.
President of worldwide presentation Rory Bruer introduced footage from the upcoming Stephen King adaptation The Dark Tower and Idris Elba talked up the supernatural thriller in a recorded message before attendees got to see him in action as The Gunslinger against Matthew McConaughey's sinister Man In Black.
A Sony Pictures Animation sequence showed footage from this week's release Smurfs: The Lost Village, as well as works-in-progress The Emoji Movie, Peter Rabbit, and faith-based tale The Star.
Rothman introduced sneak peeks from a host of titles including: Taraji P. Henson assassin thriller Proud Mary due out in January 2018; horror title Cadaver; an Untitled Dan Gilroy / Denzel Washington crime story; Scarlett Johansson comedy Rough Night; and Ellen Page in the Flatliners remake due out on September 29.
President of worldwide marketing and distribution Josh Greenstein introduced Dwayne Johnson to round out the session with first footage from Jumanji: Welcome To The Jungle, in which youngsters enter a jungle world via a video game and assume the appearance of the film's stars.
Johnson brought on fellow cast members Jack Black, Karen Gillan and Nick Jonas, and there was a recorded segment from Kevin Hart, Johnson's co-star in last year's action comedy hit Central Intelligence. The film is due out on December 22.