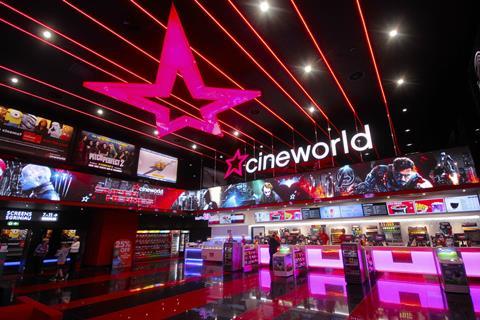 Executive directors at the UK-based exhibitor Cineworld Group have voluntarily agreed to defer payment of their full salaries and any bonuses to which they are entitled as the coronavirus pandemic continues.
Cineword - the world's second biggest cinema chain - has closed all its 787 sites in 10 countries, in line with government restrictions to curb the spread of the virus.
In an update today, the company's board also announced it has decided to suspend the payment of dividends in Q4 2019 and all of 2020 in a bid to "preserve cash".
In a statement, Cineworld said: "Every effort is being made to mitigate the effect of the closures, to assist our employees and to preserve cash. These efforts include discussions with our landlords, the film studios and major suppliers, as well as curtailing all currently unnecessary capital expenditure.
"This is a painful but necessary process as before the onslaught of the Covid-19 virus, we were excited and confident about the group's future prospects."
Cineworld is also continuing to monitor the progress of its proposed $2.1bn acquisition of Canadian group Cineplex. On March 30, broker JP Morgan wrote that it could not foresee a "realistic scenario" in which that could take place during the first half of the year.
Cineworld operates 102 cinemas in the UK and Ireland, and more than 1,030 screens. Cineworld Group also oversees the boutique Picturehouse Cinemas chain, which own and operate 25 neighbourhood cinemas and programme a further 40 venues across the UK.
The company faced criticism after emailing an undisclosed number of front-of-house staff to inform them they would be laid off, following the closure of all its UK cinemas on March 18 following industry-wide advice.
This was later reversed after UK chancellor Rishi Sunak announced that government grants would cover 80% of staff salaries up to £2,500 per month and said "employers can top up salaries further if they choose to".