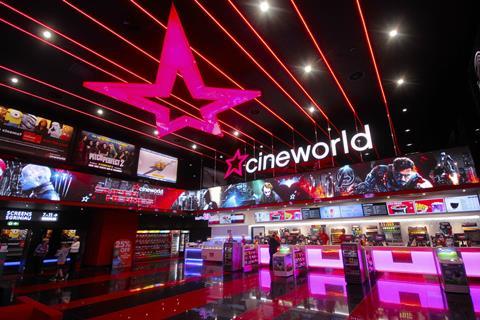 UK-based exhibitor Cineworld expects to reopen all of its cinemas in July, according to a statement sent to investors.
Cineworld's major chains include Regal (in the US), Cineworld and Picturehouse (in the UK & Ireland) and Cinema City (throughout Europe).
The world's second-biggest cinema chain closed all its 790 sites in 11 countries, in line with government restrictions to curb the spread of Covid-19.
However, the company said it "anticipates that government restrictions related to cinemas will be lifted in each of its territories by July."
It adds: "Subject to this and confirmation of the schedule for film releases, Cineworld anticipates the reopening of all of its cinemas in July. Cineworld has put in place procedures to ensure a safe and enjoyable cinema experience for its employees and customers."
All UK cinemas were closed on March 20. Since then, the UK Cinema Association and Film Distributors' Association (FDA) have been working on proposals to safely reopen venues as part of the industry-wide Screen Sector Task Force, led by the BFI.
UK prime minister Boris Johnson has confirmed cinemas, along with pubs and hairdressers, are expected to open from July provided the rate of Covid-19 infections slows. Many other territories have announced cinema reopening dates, with the US lifting restrictions on a state-by-state basis, starting with Georgia and Texas.
Earlier this month fellow UK-based exhibitor Vue also said it could reopen venues on July 4 in the UK with "automatic social distancing" in place, including "physically isolating family groups through online booking systems" and "staggering film times to maintain social distancing."
So far Odeon has not yet announced a return date, with a statement on its website saying its venues are closed "until further notice".
Cineworld also said it has agreed to new funding, including $110m of liquidity to increase its credit facility, and $45m from the UK's Coronavirus Large Business Interruption Loan Scheme (CLBILS).
It said: "Cineworld expects that this additional liquidity, to the extent required, will provide it with sufficient headroom to support the Group even in the unlikely event cinemas remain closed until the end of the year."
The company hailed Christopher Nolan's Tenet (currently set for a July 17 release in the US, UK and several other territories) and Disney's Mulan (July 24 in the US) as upcoming titles that could draw audiences back to cinemas.