EXCLUSIVE: Edward Noeltner's Cinema Management Group has reported robust sales on the Croisette led by its hotly anticipated 'painted animation' starring Saoirse Ronan.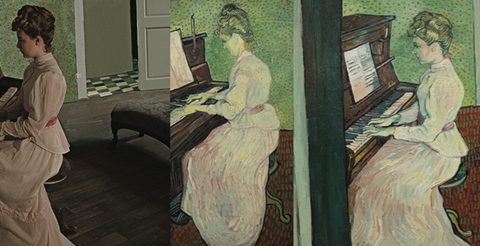 After closing a slew of deals on Loving Vincent in the run-up to Cannes, the upcoming film continues to entice buyers and the public alike, with Noeltner claiming that more than 110million people have watched the teaser.
Rights have gone in Japan (Parco), Scandinavia (Non-Stop), Italy (Adler), Colombia (CineColombia), and Israel (Shoval). Noeltner is in talks with interested parties for US rights.
Loving Vincent chronicles the final days in the life of Vincent van Gogh and deploys an unprecedented technique that recounts the story through a world painted in the unique style of the 19th century Dutch Post-Impressionist. The picture shows Ronan on the left, the van Gogh original in the middle, and an overlay on the right.
The cast includes Douglas Booth in the lead role, alongside Jerome Flynn from Game Of Thrones, Helen McCrory, Chris O'Dowd, John Sessions, Eleanor Tomlinson, and Aidan Turner.
Silver Reel, run by Claudia Blumhuber and Ian Hutchinson, is funding post-production. Dorota Kobiela and Hugh Welchman are directing and Welchman produces with Ivan Mactaggart, while David Parfitt and Sean Bobbitt are executive producers. Clint Mansell of Black Swan fame composes the score.
Noeltner has also enjoyed a strong response to Seal Team, an action comedy that began pre-sales on the Croisette and marks the third feature from Triggerfish Animation Studios, for whom CMG handled sales on Adventures In Zambezia and Khumba.
Rights have gone in Middle East (Front Row), Benelux (eOne), Poland (Kino Swiat) South Korea (First Run), Portugal (Outsider), the Czech Republic (Bohemia), Central America (ProLatAm), and Peru, Bolivia and Ecuador (Delta Films).
Wayne Thornley will direct the story of a former performing seal who joins an elite team of shark-fighters. Brian Cleveland and Jason Cleveland wrote the screenplay.
Meanwhile 3D animation The Little Vampire has gone to Notorious for Italy and Digital Contents for Mongolia.
Richard Claus and Karsten Kiilerich are directing for Studio Rakete, A. Film and Ambient Entertainment, based on Angela Sommer-Bodenburg's children's book series. The producers have earmarked a worldwide theatrical release for Halloween 2017.
Two live-action films also attracted interest, led by The Possession Experiment, an exorcism film that screened in Cannes and has sold to BMS for Japan, V Cinema for China, and ProLatAm for Central America.
Todd Slater and Bob Weingard produced and Scott B Hansen directed.
The same three buyers acquired horror title Havenhurst, which CMG also licensed to Amarok for Mexico and pan-Latin America, and CineColombia for Colombia.
Andrew C Erin directed and Jina Panebianco, Tosca Musk and Erin produced the film, which also screened on the Croisette. Julie Benz, Fionnula Flanagan and Belle Shouse star.