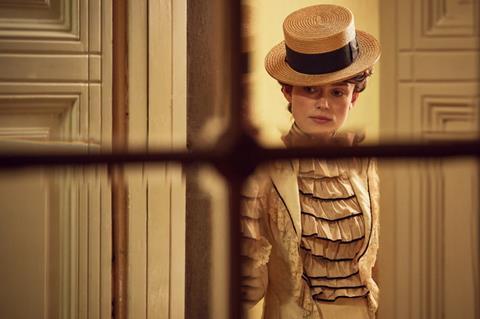 JANUARY 21 UPDATE: Wash Westmoreland's Colette starring Keira Knightley has sold to Bleecker Street and 30WEST in a mid-seven-figure US deal as the first major on-site deal in Park City closed in the small hours of Sunday following Saturday night's world premiere.
CAA and Endeavor Content handled negotiations on behalf of the filmmakers and fielded interest from Sony Pictures Classics, Amazon Studios and Fox Searchlight. The Premieres selection from Number 9 Films, Killer Films and Bold Films stars Knightley as the titular French author and had been a hot ticket for buyers.
Westmoreland directs and shares a writing credit with his late husband and collaborator Richard Glatzer (who died in 2015) and Rebecca Lemkowicz. HanWay Films represents international rights.
Debra Granik's Winter's Bone follow-up Leave No Trace sold to SPWA in an international deal after it delivered a stirring debut on Saturday and plays again on Sunday. The Premieres selection about a father and daughter living off the grid stars Ben Foster and newcomer Thomasin Harcourt McKenzieas, who impressed buyers at the premiere. Endeavor Content continues to talk to North Americasn buyers and the pedigree is clear. Winter's Bone won the grand jury prize back in Sundance 2010 and went on to earn four Oscar nods including one for best picture and another for the film's then-unknown star, Jennifer Lawrence.
Sundance Selects snapped up Dana Nachman and Don Hardy's Slamdance feel-good documentary and opening night selection Pick Of The Litter. Submarine represents worldwide sales.
Meanwhile Carlos López Estrada's buddy comedy Blindspotting is heating up with insiders talking of an imminent deal, as buyers continue to pursue American Animals and Sorry To Bother You entered the fray following its Saturday world premieres.
Sara Colangelo's US Dramatic Competition selection The Kindergarten Teacher starring Maggie Gyllenhaal has also drawn heat following the Friday premiere and plays again on Sunday. Endeavor Content represents worldwide rights.
Sunday in Park City brings anticipated premieres from The Handmaid's Tale director Reed Morano's sci-fi drama I Think We're Alone Now, the US Dramatic Competition selection that premieres at the Eccles in the afternoon and stars Elle Fanning and Peter Dinklage. Endeavor Content and CAA represent US rights and Global Road handles international.
Rupert Everett's feature directorial debut The Happy Prince starring Everett as Oscar Wilde will draw the art house buyers. CAA handles US rights while Beta Cinema is on board international sales. Sam Levinson's Assassination Nation (Endeavor Content represents US, Bloom handles international) from Bron is the Midnight screening buyers are keen to watch.
Submarine handles sales on Sandi Tan's Shirkers. The story of LA-based Singapore-born filmmaker and novelist Tan, whose debut shot some 25 years ago in Singapore and was stolen by her American mentor.
TrustNordisk's nail-biter The Guilty has already screened for press and industry and receives its public world premiere in World Cinema Dramatic Competition on Sunday. Gustav Moller's directorial debut stars Jakob Cedergren as a police officer demoted to call emergency operator work who must deal with a kidnapping case. The film has already created a stir among those who have seen it and besides the straight acquisition, could hold English-language remake potential for a studio or streaming platform.
IFC and NEON are understood to be circling Blindspotting (pictured, Endeavor Content handles sales), and interest has coalesced around Reinaldo Marcus Green's US Dramatic Competition entry and police shooting drama Monsters And Men, which Endeavor Content also handles and screens again on Sunday.
Boots Riley's outrageous satire Sorry To Bother You drew multiple key buyers to Saturday evening's world premiere at The Library, with Amazon Studios, Focus Features, NEON, Aviron, Sony Pictures Worldwide Acquisitions, and Samuel Goldwyn Films among those in attendance. Endeavor Content represents worldwide rights.
Idris Elba's feature directorial debut Yardie, a coming-of-age drama premiered on Saturday evening in World Cinema Dramatic Competition and hails from worldwide rights holder Studiocanal. CAA represents Jonathan Watson's Midnight selection Arizona, a kidnap comedy romp starring Danny McBride and Rosemarie DeWitt that premieres on Saturday night.
Ben Lewin's political thriller The Catcher Was A Spy starring Paul Rudd debuted in Premieres on Friday and buyers said it could entice a streaming platform or a day-and-date distributor. UTA Independent Film Group handles US rights and FilmNation represents international sales.
Jesse Peretz's Nick Hornby adaptation Juliet, Naked, a three-header comedy with a predictably memorable soundtrack that stars Ethan Hawke, Rose Byrne and Chris O'Dowd, screened in Premieres on Friday and Saturday and plays again on Sunday. CAA and UTA Independent Film Group represent US rights. Rocket Science handles international sales.
Paul Dano's feature directorial debut Wildlife starring Carey Mulligan and Jake Gyllenhaal premiered in US Dramatic Competition on Saturday afternoon and screens again on Sunday. Endeavor Content handles the US, while FilmNation represents international sales.
UTA Independent Film Group continued to field interest from US buyers on American Animals, Bart Layton's US Dramatic Competition entry that impressed in its Friday night premiere and features Barry Keoghan (The Killing Of A Sacred Deer) in the tale of four youngsters who attempt an art heist. Sierra/Affinity handles international sales on Layton's dramatic debut and first feature since the acclaimed Sundance 2012 documentary The Imposter.
Of interest among the documentaries so far are police whistleblower tale Crime + Punishment, family story Three Identical Strangers, crowd-pleaser Pick Of The Litter, and art world doc The Price Of Everything, which HBO Documentary Films picked up for US TV before the festival. Submarine Entertainment represents all four, as it does Kusama – Infinity, which screens to press and industry on Saturday. Submarine has also received attention on Derek Doneen's child slave labour doc Kailash.
Deals announced so far include Sony Pictures Worldwide Acquisitions taking international rights to Brett Haley's crowd-pleaser Hearts Beat Loud – Endeavor Content is in talks with US buyers – and O-Scope's preemptive buy on North American rights to Eugene Jarecki's documentary The King.