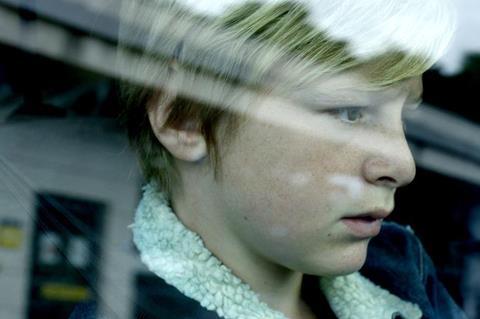 Xavier Legrand's domestic violence drama Custody (Jusqu'à La Garde) was named best film at the 44th Cesar Awards in Paris on Friday (23).
Legrand's feature directorial debut and Venice 2017 Silver Lion winner began the night on a field-leading 10 nominations alongside Gilles Lellouche's comedy Sink Or Swim (Le Grand Bain), and also won awards for Legrand's original screenplay, best actress Lea Drucker, and editor Yorgos Lamprinos.
Jacques Audiard was named best director for The Sisters Brothers at the ceremony in the Salle Pleyel, presided over by Kristin Scott Thomas. The Sisters Brothers won four awards on the night, also taking cinematography for Benoit Debie, production design for Michel Barthelemy, and sound for Brigitte Taillandier, Valerie de Loof, and Cyril Holts.
Alex Lutz prevailed in the best actor category for Guy, which he also directed. Karin Viard was named best supporting actress for Little Tickles (Les Chatouilles), the sexual abuse drama which premiered in Cannes last year, while Philippe Katerine won the corresponding best supporting actor contest for Sink Or Swim (Le Grand Bain). It was the only win of the night for the comedy, despite 10 nods heading into the show.
Hirokazu Kore-Eda's Cannes Palme d'Or winner Shoplifters was named best foreign film. Jean-Bernard Marlin's Marseille-set thriller Sheherazade enjoyed a memorable Cesars, earning three awards for best first film, best new actor (Dylan Robert), and best new actress (Kenza Fortas).
In other key wins, Annecy Film Festival 2018 opener Dilili In Paris by Michel Ocelot was crowned best animation, and Jean Libon and Yves Hinant prevailed in the documentary category for So Help Me God (Ni Juge, Ni Soumise).
Selected winners:
Best film

Memoir Of War (La Douleur)

The Trouble With You (En Liberté!)

The Sisters Brothers
Sink Or Swim (Le Grand Bain)
Guy

Custody (Jusqu'à La Garde)

In Safe Hands (Pupille)
Best director

Emmanuel Finkiel, Memoir Of War (La Douleur)
Pierre Salvadori, The Trouble With You (En Liberté!)
Jacques Audiard, The Sisters Brothers
Gilles Lellouche, Sink Or Swim (Le Grand Bain)
Alex Lutz, Guy
Xavier Legrand, Custody (Jusqu'à La Garde)
Jeanne Harry, In Safe Hands (Pupille)
Best actress
Elodie Bouchez, In Safe Hands (Pupille)
Cecile de France, Mademoiselle de Joncquieres
Lea Drucker, Custody (Jusqu'à La Garde)
Virginie Efira, An Impossible Love (Un Amor Impossible)
Adele Haenel, The Trouble With You (En Liberté!)
Sandrine Kiberlain, In Safe Hands (Pupille)
Melanie Thierry, Memoir Of War (La Douleur)
Best actor
Edouard Baer, Mademoiselle de Joncquieres
Romain Duris, Our Struggles (Nos Batailles)
Vincent Lacoste, Amanda
Gilles Lellouche, In Safe Hands (Pupille)
Alex Lutz, Guy
Pio Marmai, The Trouble With You (En Liberté!)
Denis Menochet, Custody (Jusqu'à La Garde)
Best supporting actress
Isabelle Adjani, The World Is Yours (Le Monde Est a Toi)
Leila Bekhti, Sink Or Swim (Le Grand Bain)
Virginie Efira, Sink Or Swim (Le Grand Bain)
Audrey Tautou, The Trouble With You (En Liberté!)
Karin Viard, Little Tickles (Les Chatouilles)
Best supporting actor
Jean-Hugues Anglade, Sink Or Swim (Le Grand Bain)
Damien Bonnard, The Trouble With You (En Liberté!)
Clovis Cornillac, Little Tickles (Les Chatouilles)
Philippe Katerine, Sink Or Swim (Le Grand Bain)
Denis Podalydes, Sorry Angel (Plaire, Aimer et Courir Vite)
Best original screenplay
The Trouble With You (En Liberté!), Pierre Salvadori, Beoit Graffin, Benjamin Charbit
Sink Or Swim (Le Grand Bain), Gilles Lellouche, Ahmed Hamidi, Julien Lambroschini
Guy, Alex Lutz, Anais Deban, Thibault Segouin
Custody (Jusqu'à La Garde), Xavier Legrand
In Safe Hands (Pupille), Jeanne Herry
Best adapted screenplay
Little Tickles (Les Chatouilles), Andrea Bescond, Eric Metayer
Memoir Of War (La Douleur), Emmanuel Finkiel
The Sisters Brothers, Jacques Audiard, Thomas Bidegain
Mademoiselle de Joncquieres, Emmanuel Mouret
An Impossible Love (Un Amor Impossible), Catherine Corsini, Laurette Polmanss
Best foreign film
Three Billboards Outside Ebbing, Missouri
Capernaum
Cold War
Girl
Hannah
Our Struggles
Shoplifters
Best first film
L'Amour Flou, Romaine Bohringer
Little Tickles (Les Chatouilles), Andrea Bescond, Eric Metayer
Custody (Jusqu'à La Garde), Xavier Legrand
Savage, Camille Vidal-Naquet
Sheherazade, Jean-Bernard Marl