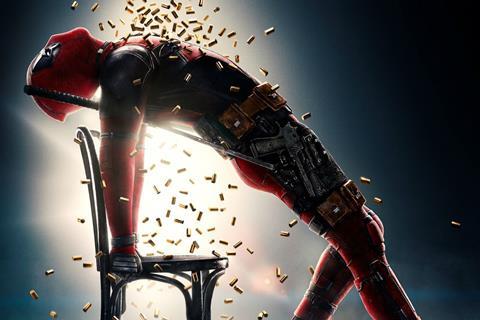 Deadpool 2 leaps into the international marketplace this weekend, with Fox International opening the Marvel comic book adaptation in more than 80 territories day and date with its domestic launch.
With Ryan Reynolds once again starring, but with a new villain played by Josh Brolin, the sequel landed in markets including the UK and Italy on Tuesday (May 15), Australia, France, and South Korea on Wednesday (May 16), in Brazil, Germany, Russia and other territories on Thursday (May 17) and in Mexico and Spain on Friday (May 18).
The original Deadpool, released in February 2016, ended up with an international gross of $420m. Its North American take was $363.1m, for a global total of $783.1m.
The sequel will face tough international competition from Marvel Studios' Avengers: Infinity War, which, as of Thursday, had grossed $1.14bn through Walt Disney Studios outside North America, taking it past Star Wars: The Force Awakens to become the fourth biggest international release ever.
Combined with a domestic gross of $566.3m, that took the early summer blockbuster to a global tally of $1.7bn, enough for the franchise entry to pass Jurassic World and become the fourth biggest global release of all time.
For individual markets, Infinity War has now reached $248.9m in China, $86.5m in Korea, $84.9m in the UK, $57.9m in Brazil and $56.5m in Mexico.
Warner Bros Pictures International opens Rampage, which as of Monday (May 14) had reached $308.4m internationally, in Japan on Friday.
Warner's Ready Player One had reached $439.2m internationally as of Monday, and Game Night hit $47.1m.
Peter Rabbit, from Sony Pictures Releasing International, opens this weekend in South Korea and Japan, its final markets. The family film had tallied $216.9m outside North America as of Thursday.
Paramount Pictures International's A Quiet Place opens in China on Friday, having taken $101.4m internationally as of Thursday. The studio's Sherlock Gnomes has now reached $29.7m internationally.
Blockers, with $27.2m internationally to date, opened in Italy on Thursday through Universal, which also reported international tallies of $33.2m for Blumhouse's Truth or Dare and $1.4m for Breaking In.
Fox International's Isle of Dogs had reached $25.1m internationally and Love, Simon $16.5m as of Tuesday (May 15).
I Feel Pretty had reached $4.2m in the UK, where the comedy is distributed by STX, as of Monday.