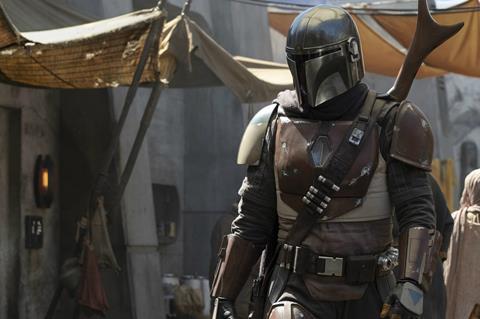 Disney will launch its new Disney+ streaming service in France on Tuesday (April 7) having initially abandoned plans for a March 23 at the request of the French government to prevent strain on the country's internet system during the Covid-19 lockdown.
French viewers will be able to access the new SVOD channel via a dedicated Disney+ App, through which content can be viewed on smartphones, tablets and connected TVs, or as part of a subscription with local pay-TV giant Canal+, which has an exclusive deal with Disney to carry the new service in France.
Canal+ announced on Monday (April 6) that it would be celebrating the arrival of Disney+ as part of its offering with "exceptional" free-to-air screenings of the first episode of Star Wars spin-off The Mandalorian as well as a special programme on the production throughout the day on April 7.
One of the most high-profile original series commissioned for the new platform, The Mandalorian is expected to be a big draw for potential subscribers even if it is already available in the US.
Canal+ said it would also run a special programme of new Disney titles for its subscribers on April 6 and 7 including the pay-TV premieres of The Lion King, Toy Story 2, Aladdin, The Nutcracker And The Four and Christopher Robin.
Parent company the Canal Plus Group has been positioning itself as a leading content aggregator for top incoming streaming services in France.
Last year, it signed a similar exclusive arrangement with Netflix under which the SVoD giants service is included in some of its pay-TV packages.
Canal+ subscriptions run from $21.50 (€19.90) a month for a basic package to $97 (€89.99) for all its content including premium cinema releases and sporting events.
France's 66 million-strong population has been under a 15-day lockdown since March 17 which will continue until at least April 15 and is likely to be extended.
This has caused a surge in internet usage as people work at home and children study online. In a silver lining for Disney, the delayed Disney+ launch in France coincides with the country's Easter school holidays which began for most pupils on April 3.