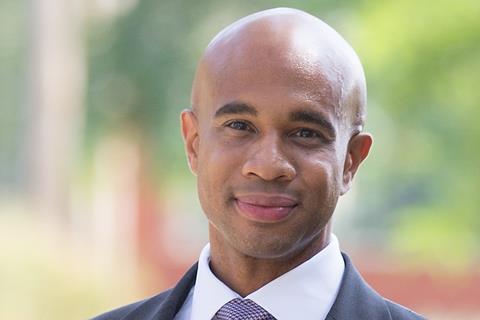 Disney on Monday (October 12) announced a restructure of its media and entertainment divisions to aggressively support and grow the streaming services led by Disney+, which has thrived during the pandemic.
The news comes on the day the International Union of Cinemas said cinema operators were "shocked and dismayed" after Disney pulled next month's theatrical release of Pixar's Soul and moved it to Disney+ in the US and other territories where the service operates.
Under a new media and entertainment distribution group led by 14-year Disney veteran Kareem Daniel (pictured), three content groups – studios, general entertainment, and sports – will each produce and deliver content for theatrical, linear and streaming, with primary focus on streaming.
Distribution and commercial activities including advertising sales will be centralised under the global media and entertainment distribution group, which will have sole P&L accountability for Disney's media and entertainment businesses.
The group will also manage operations for streaming services and US television networks, and will work closely with the content creation teams on programming and marketing.
Disney will hold a virtual investor day on December 10 when it will present more detail on its direct-to-consumer strategies.
Disney CEO Bob Chapek said keeping the content groups and distribution and commercial operations separate would enable the company to be "more effective and nimble" in making content customers want, and delivering it in the way they want it.
Studios content chairmen Alan Horn and Alan Bergman will exploit existing Disney-owned brands to make theatrical and episodic content that will be released theatrically, and on Disney+ and Hulu.
As chairman of general entertainment content, former Walt Disney Television chairman Peter Rice will draw on 20th Television, ABC Signature and Touchstone Television, ABC News, Disney Channels, Freeform, FX, and National Geographic to create episodic and original long-form content for Disney's streaming platforms, and cable and broadcast networks.
James Pitaro is named chairman of ESPN and Sports content, which will focus on ESPN's live sports programming, sports news and original and non-scripted sports-related content, for the cable channels, ESPN+, and ABC.
All four executives and Daniel report directly to Chapek.
Disney parks, experiences and products will continue to operate under its existing structure, led by chairman Josh D'Amaro, who continues to report to Chapek.
Parks is traditionally a major contributor to Disney's bottom line, albeit one that has been decimated during the pandemic this year as southern California's Disneyland remains closed, and business at Florida's Disneyworld suffers.
Rebecca Campbell will serve as chairman of international operations and direct-to-consumer, which will no longer be combined. Executive chairman Bob Iger will continue to oversee creative endeavours.
Chapek said the restructure was designed to support "the incredible success of Disney+ and our plans to accelerate our direct-to-consumer business".
The platform has drawn more than 60m subscribers since it launched in November 2019. Latest subscriber numbers are expected to be reported at Disney's full year and fourth quarter earnings call on November 12.
The new structure is effective immediately, and Disney expects to transition to financial reporting under this structure in the first quarter of fiscal 2021.