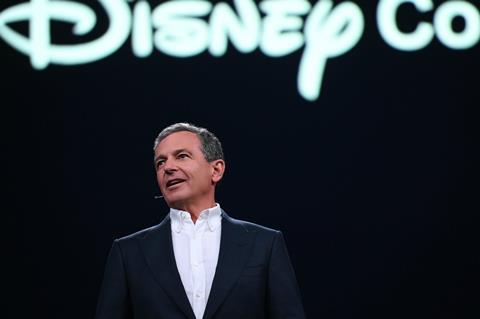 The Disney+ streaming service will launch on March 31 2020 in the UK, France, Germany, Italy, Spain and other territories in Western Europe, the company has revealed.
Set to launch on November 12 in the US, Canada and the Netherlands, and on November 19 in Australia and New Zealand, the service will offer 500 films and 7,500 episodes of library TV when it arrives in Western Europe.
Original movies, specials and series to be offered at launch will include Star Wars spin-off The Mandalorian. Over five years Iger said the streaming service offerings will rise to 620 films and 10,000 TV episodes.
The additional international launches were announced by Walt Disney Company chairman and CEO Bob Iger during the company's end of year and fourth quarter earnings call on Thursday (7).
Though the company has declined comment, Disney has reportedly had talks with Canal Plus Group about the latter becoming the exclusive third party carrier of Disney+ in France. It is understood, however, any such distribution deals, in France or other international markets, would be in addition to the service being made available directly to consumers.
On the Disney earnings call, Iger said the company was "very pleased" with the results from a pre-launch trial of Disney+ in the Netherlands. He said the service had earned "praise for elegance and ease of the interface and the quality of the overall experience."
Iger also announced that beginning next March, Hulu, the US streaming service Disney now controls, would become the official streaming home for FX Networks, the cable channel company Disney inherited as part of its acquisition of Fox assets.
An 'FX on Hulu' segment of Hulu will offer all seasons of more than 40 FX series and episodes of current and new FX series immediately after they air on the linear FX network.
FX will also produce original series exclusively for FX on Hulu, starting in 2020 with four projects previously announced for the linear network: Devs, the sci-fi show being produced by the UK's DNA Films, Mrs America, A Teacher and The Old Man. The Fox Searchlight film and TV label is also developing original content for Hulu, Iger revealed.
The arrangement with Hulu will be "a great way to expand the FX brand and an important step for Hulu as it adds original content to compete more aggressively with new and legacy direct-to-consumer platforms," the Disney chief said.
Commenting on previously revealed plans to expand Hulu itself into international markets, Iger said: "We're working through the formulation of the strategy in terms of what markets when. It's complicated in terms of our need to make sure that we have the right product in all the markets that we launch in and to be locally relevant and locally compliant."