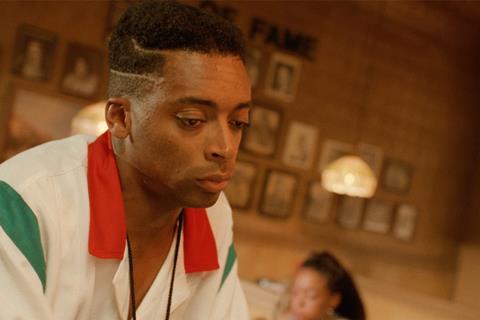 A restored copy of Spike Lee's 1989 classic Do The Right Thing (1989) will be given a 30th anniversary Piazza Grande screening at the Locarno Film Festival as part its Black Light retrospective exploring Black cinema.
It is among some 20 titles included in the ambitious overview encompassing race films of the 1920s and 30s, 1970s Blaxploitation classics and works by cult directors including Lee and the late John Singleton, whose 1991 breakthrough debut Boyz N The Hood is in the selection.
Lee's explosive comedy-drama Do The Right Thing, exploring racial tensions in a Brooklyn neighbourhood on a sweltering hot day, first went on theatrical release in June 1989 after premiering in competition at Cannes.
It will screen in Locarno on Aug 6, on the eve of the festival running Aug 7-17.
The retrospective is curated by independent curator and writer Greg de Cuir Jr. He is best known for the Avant-Noir screening series showcasing film and video work exploring Black culture which has travelled to the ICA in London, the Palais des Beaux-Arts in Brussels and IU Cinema in Bloomington, Indiana.
Black Light replaces a planned restrospective celebrating the work of Breakfast At Tiffany's director Blake Edwards, which was cancelled in March.
Other titles due to play in the retrospective include the 1932 French-language ocean liner-set murder mystery Daïnah la métisse; Shirley Clarke's 1963 drama The Cool World, capturing life in the then Harlem ghetto through a black teen gang, and African American documentary pioneer William Greaves's 1968 work Symbiopsychotaxiplasm: Take One, capturing students as they audition for a drama.
There will also be a screening of Italian director Pier Paolo Pasolini's experimental 1970 work Notes Towards An African Orestes (Appunti per un'Orestiade Africana), based on interviews with a group of African students studying in Rome.
The line-up also features 1973 Blaxploitation classic Coffy, starring Pam Grier as a nurse who turns vigilante and seeks revenge on the drug dealer responsible for her sister's addiction, as well as Quentin Tarantino's Blaxploitation tribute Jackie Brown, which also stars the actress in the titular lead role.
It is also set to travel to within Switzerland and across Europe into 2020, stopping off at the Cinémathèque suisse, Cinema REX Bern, Filmpodium Zürich, EYE Filmmuseum in Amsterdam, Arsenal in Berlin and the Cineteca Madrid.
Locarno Film Festival artistic director Lili Hinstin, who came up with the idea for the retrospective and brought de Cuir on board said the idea was "to go beyond the #MeToo movement and explore the representation of minorities through the black issue."