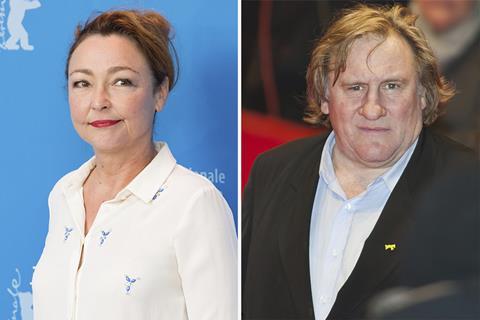 Doc & Film International will kick-off sales on Belgian filmmaker Lucas Belvaux's upcoming Algerian War legacy drama Des Hommes, co-starring Gérard Depardieu and Catherine Frot, at the Unifrance Rendez-vous with French Cinema in Paris next week (Jan 17-21).
Based on the eponymous novel of Laurent Mauvignier, Depardieu co-stars as the tortured, alcoholic figure of Feu-de-Bois, a brutish troublemaker haunted by a tough childhood and the horrors he saw as a young French soldier in Algeria during the country's 1954-62 independence war.
The story unfolds some 40 years later in remote Burgundy region of Morvan around the 60th birthday party of Feu-de-Bois's sister Solange, played by Frot. Feu-de-Bois disrupts the festivities, bringing together extended family, friends and acquaintances, with a racist outburst against a local man of North African origin. Over the course of the evening, flashbacks and recollections will reveal the origins of Feu-de-Bois current state and racist behaviour.
Doc & Film CEO Daniela Elstner says the film continues Belvaux's exploration of the roots of racism and nationalism that began with his 2017 political drama This Is Our Land, exploring the rise of a far-right party in northern France.
"It looks at the impact of war on an individual and personal reverberations when he returns home and at the same time explores a post-colonial situation that exists in many countries through how the experiences of the protagonist shape his view of foreigners, " she says.
"It's not exactly the same as This Is Our Land. That was a contemporary tale looking at what is going on now. This goes into the issue in more depth, looking at its roots and influences in a more layered way while telling a more personal story."
The film is produced by David Frenkel at Paris-based Synecdoche and Patrick Quinet at Belgian production company Artemis who also produced This Is Our Land. Shooting will begin this spring for a potential festival premiere in early 2020.
Other new upcoming projects on the Doc & Film slate include a quirky fantasy comedy-drama, working-titled Blind Spot (Angle Mort).
Jean-Christophe Folly stars as a man who tries to keep his powers of invisibility under wraps, like a guilty secret, until they get out of control, wreaking havoc on old friendships and relationship with his fiancée Viveka, played by Isabelle Carré. Golshifteh Farahani also features in the cast.
It is co-directed by Patrick-Mario Bernard and Pierre Trividic and produced by Patrick Sobelman at Agat Films/Ex-Nihilo. It is currently in post-production.
Paris RDV premieres
Doc & Film will also market premiere romantic comedy Whatever Happened To My Revolution about idealistic, thirtysomething urban planner and wannabe revolutionary Angele, who is stuck in a permanent state of outrage at the state of the world.
Judith Davis, who is also an active member of the L'Avantage de Doute theatre collective, directs and stars in the film.
"Her theatre shows are very engaged and participatory and there's an element of this film which also chimes with the moment and what is going on in France and elsewhere," says Elstner.
It is produced by Agat Films and Aspara Films. Having premiered at the Angoulême French-speaking Festival over the summer, UFO Distribution will release the film in early February.
The company will also screen Partho Sen-Gupta's Australian-French co-productionSlam, about a young Arab Australian man whose life is turned upside down when his sister disappears amid rumours she has joined the ranks of ISIS in Syria, and Nicolas Philibert's documentary Each And Every Moment exploring the world of trainee nurses, which premiered in Locarno.
Sundance pick-up
In other news, the company has picked up world sales on Sundance title Midnight Traveler in which director Hassan Fazili captures his flight from Afghanistan with his wife and two young daughters when the Taliban put a price on his head, exploring the plight of refugees around the world in the process.
It is produced by Emelie Mahdavian at Old Chilly Pictures with the support of the Doha Film Institute, Cinereach and the Doc Society.
It will premiere in Sundance's World Cinema Documentary Competition later this month.