EXCLUSIVE: Shoot for Marvel fantasy starring Benedict Cumberbatch underway at Longcross Studios in UK.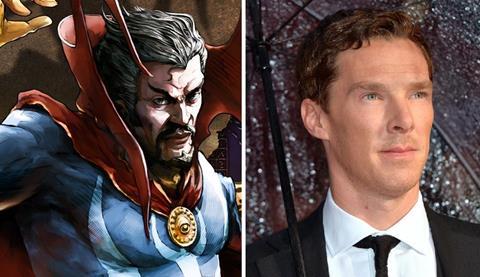 Marvel fantasy Doctor Strange has begun principal photography in the UK at Longcross Film Studios.
Following a brief stint on location in Kathmandu, Nepal, the anticipated production is expected to be housed at Longcross until early spring 2016.
Benedict Cumberbatch (The Imitation Game) stars as the eponymous Doctor Strange, a brilliant but arrogant surgeon whose career is derailed but gets a new lease of life when a sorcerer (Tilda Swinton) takes him under his wing and trains him to defend the world against evil.
The character, who made his first appearance in the Marvel Universe more than 50 years ago, was first created by Stan Lee and Steve Ditko.
Rachel McAdams, Chiwetel Ejiofor, Mads Mikkelsen, Michael Stuhlbarg and Neve Gachev also star in Marvel's latest likely blockbuster, which is expected to offer a more psychedelic experience than previous Marvel features.
Scott Derrickson directs Jon Spaihts' script, which is produced by Kevin Feige.
Disney's release is set for November 2016 in the US.
With studio space at a premium in the UK, Longcross has become a popular alternative or combination for US studios with Pinewood, Shepperton and Leavesden.
Productions to shoot at the Surrey location in recent years include Guardians Of The Galaxy, Fast And Furious 6, Captain Phillips, World War Z and Thor 2.