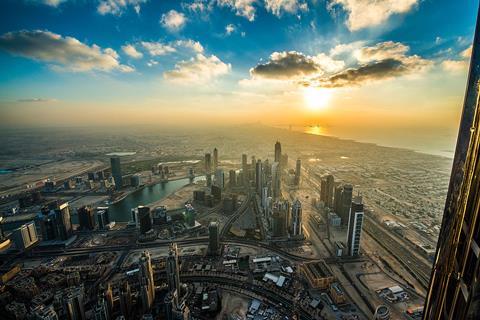 The organisers of the Dubai International Film Festival (DIFF) have announced a one-year hiatus with the next edition now scheduled for 2019 as part of a major overhaul of the event.
They said the move was part of a new strategy to support the growth and evolution of the film and content industries in the region, and added that from now the festival would be held every two years from 2019 onwards.
"With the vast changes taking place both in the regional and global movie-making and content industry, we are seeking to redefine the Dubai International Film Festival's approach towards nurturing growth, creativity and talent," Jamal Al Sharif, chairman Dubai Film and TV Commission, said in a statement.
"Innovative new approaches and technologies are transforming the distribution of content and the craft of movie-making. As a forward-thinking player in the global film industry, DIFF seeks to embrace the future of the industry through this strategic shift."
The statement, posted on the DIFF website, comes amid rising speculation over the future of the festival, as reports that key members of the team had not had their contracts renewed circulated, sparking suggestions the event was on the verge of being shut down altogether.
The statement said the 15th edition of the festival would take place in Dubai in 2019. Industry sources are suggesting that under its new incarnation it will move from its current location at the Jumeirah Beach Resort to a downtown Dubai location such as the Dubai Opera House.
"The Festival will continue its significant contribution to the development of the industry, as we look forward to celebrating with the public, film lovers and industry professionals in 2019. We will announce the final dates, details and the new programme as soon as confirmed," Al Sharif said.
Founded in 2004, DIFF has steadily grown into a key film festival for both the UAE and the entire Middle East, championing Arab cinema but also showcasing films from around the world.
There were no details on whether DIFF's industry initiatives such as the Dubai Distribution Programme, the Dubai Film Connection, and the Enjaaz Fund would be maintained or resurrected under the new format.
There was no information on which members of the current DIFF team would return for the 2019 edition.
The DIFF statement said that since its creation in 2014, the festival had hosted almost 2,000 screenings including 500 films from the Arab world, helped more than 300 films from the region reach completion, facilitated funding and partnership for a further 140, supported more than 200 talented Arab filmmakers through the Festival's Muhr Awards, and driven tourism across the city.