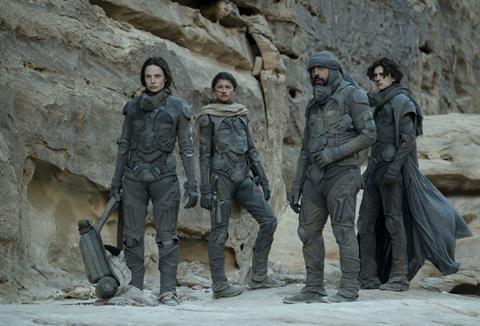 Denis Villeneuve has received the go-ahead to make the second instalment of his highly acclaimed sci-fi epic Dune and the sequel has been scheduled to open in October 2023.
The news was confirmed on Tuesday (October 26). Dune has crossed $225m at the global box office and opened top in North America above expectations on $41m last weekend, day-and-date with its streaming launch on HBO Max. This is the biggest three-day debut by a Warner Bros film since the simultaneous release strategy began in January.
"I just received news from Legendary that we are officially moving forward with Dune: Part Two," said Villeneuve. "It was a dream of mine to adapt Frank Herbert's Dune and I have the fans, the cast, and crew, Legendary and Warner Bros. to thank for supporting this dream. This is only the beginning."
"Legendary is pleased to officially move forward with Dune: Part Two…once again based on the amazing books written by Frank Herbert," the studio said in a statement. "We would not have gotten to this point without the extraordinary vision of Denis and the amazing work of his talented crew, the writers, our stellar cast, our partners at Warner Bros., and of course the fans! Here's to more Dune."
Toby Emmerich, chairman of Warner Bros. Pictures Group added: "Denis Villeneuve has crafted a film that is both visually extraordinary and emotionally transporting, as evidenced by its global success both critically and at the box office. We are thrilled to continue on this journey with Denis and his cast and crew, and our partners at Legendary, and can't wait to bring the next chapter of this epic tale to theatres in October 2023."
French-Canadian director Villeneuve has said it was always his understanding that he would tell the story in two parts. It was understood Warner Bros had been preparing to announce the sequel for several weeks. Executives went public with their enthusiasm for a follow-up last week when WarnerMedia Studios and Networks chair and CEO Ann Sarnoff spoke to reporters.
Timothee Chalamet stars in the story of an intergalatic war to control a precious commodity alongside Rebecca Ferguson, Oscar Isaac, Josh Brolin, Stellan Skarsgard, Dave Bautista, Zendaya, Chang Chen, Charlotte Rampling, Jason Momoa and Javier Bardem.