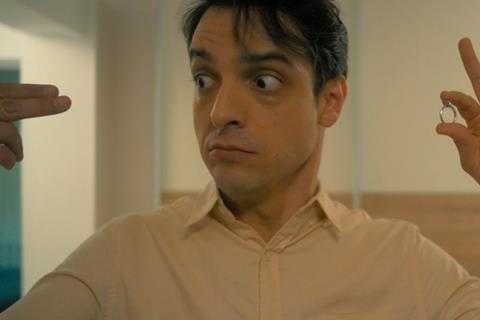 The FILM + programme that supports independent micro-budget film production by filmmakers from Romania, Serbia, Bulgaria and the Republic of Moldova, has seen films by seven alumni, including five world premieres, selected for this year's Transilvania (TIFF) programme.
Two of the films premiering in Cluj this week had been developed in one of the FILM + modules over the past five years.
Alex Pintica's musical short No Singing After 8, which is being shown in one of the Romanian Shorts programmes, had participated in FILM +'s first Production Llab in 2016, while Dragos Hanciu's feature documentary The Man And His Shadow was one of the projects selected for last year's Work In Progress Lab.
Hanciu's portrait of the analogue photography lab technician Gheorghe Blonda and his resistance to plans by Romania's national film school to replace him as part of an alleged modernisation drive, is screening in the Romanian Film Days sidebar.
The other three world premieres directed by FILM + alumni are Andra Hera's documentary The Things We Hide In Silence and shorts by Denisse Conn Tubacu (Like Mother Used To Sing) and Vladimir Dembinski (In The Name Of The Father).
In addition, Bogdan Theodor Olteanu - who had participated with Vladimir Dembinski on a joint project in FILM +'s Production Lab in 2019 - is in TIFF with his low- budget tragicomedy Mia Misses Her Revenge which received a special mention from the jury at last year's Warsaw Film Festival.
Additionally Balaur, the feature debut by Octav Chelaru, a participant in FILM +'s first Work in Progress Lab in 2016, has been selected for a closed screening for sales agents and festival programmers on the as part of this year's industry programme.
New talent incubator
The workshop, consultancy and support lab for micro-budget short and feature film projects was founded in 2016 by a group of young Romanian film professionals - DoP Ana Drăghici, film and audiovisual consultant Alex Trăilă, director Paul Negoescu and producer Anamaria Antoci - with the aim of providing resources and expertise on a collaboration platform to support the filmmakers.
No restrictions are made on the genre of the submitted projects - they can be feature, animation, documentary or experimental - or on the stage of the project at the time of the application since FILM + has three labs dedicated to development, production, and post-production.
The initiative was originally restricted to filmmakers from Romania but, thanks to support from the European Union's Creative Europe programme, it was extended three years ago to include emerging talents from Serbia, Bulgaria and the Republic of Moldova.
"The idea was to export the knowledge of the successful Romania cinema," explained co-founder Paul Negoescu. "These countries were chosen as they are also ones with a low capacity for film production. It was important that they are within driving distance of Bucharest because the participants are invited to come for a one-week boot camp which is a bit like a mini-film school."
However, the pandemic meant last year's intake of 18 filmmakers, who were selected from over 100 submissions, could only come together for a virtual bootcamp at the end of October with masterclasses and virtual labs held by leading professionals from the region such as directors Alexander Nanau, Adrian Sitaru, Monica Lăzurean-Gorgan and Srdan Golubovic as well as producers Ada Solomon and Anamaria Antoci, and editors Andrei Gorgan and Roxana Szel.
Next intake
The call for applications for the sixth edition of FILM + is currently underway and Negoescu has been at TIFF this week to participate in the First Cut Lab with his latest feature project Men Of Deeds. He is attending with his producer Anamaria Antoci and the film's editor Eugen Kelemen. "We had only finished shooting a month ago in June, but we were able to prepare a first cut and received feedback from three sales agents as well as advice from the two main tutors, editors Wim [Vanacker] and Matthieu [Taponier]," he said.
"In our last session with Matthieu, we had a very productive time going through the film scene by scene, discussing what works and what could be improved. We advanced in a couple of days what would have otherwise taken a month."
Produced by Antoci's Tangaj Productions with Negoescu's own company Papillon Film and Bulgarian co-producer Screening Emotion, Men of Deeds was shot on location in northern Romania.
It stars Iulian Postelnicu as a village policeman trying to build a comfortable life for himself, but his past choices and a chain of disastrous, violent events combine to pressure him into a very dark place. The cast also includes Crina Semciuc who has previously worked with Negoescu on The Story of A Summer Lover.