Significant prosecution for internet film piracy in Northern Ireland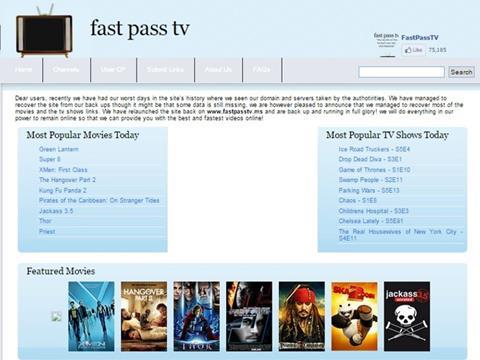 An internet pirate in Northern Ireland was today sentenced at Londonderry Crown Court to four years imprisonment.
Paul Mahony, 30, from Carnhill had pleaded guilty to two charges of conspiracy to defraud, one of acquiring criminal property and one of converting criminal property. More than $125,000 (£82,000) seized from his home has been confiscated.
In the largest case of its kind in Northern Ireland, led by the Police Service in Northern Ireland (PSNI) and the Federation Against Copyright Theft (FACT), Mahony admitted running a website which facilitated the illegal accessing of films from the internet.
He admitted running a website from his bedroom which enabled visitors to search for a particular film, click on a weblink to a third party website and watch the streamed movie on their computer. The third party sites are unlawful because they facilitate the viewing by the public of illicit copies of films.
Mahony made money by charging for advertising on his website and by uploading new films to the third party websites. Police seized more than $125,000 (£82,000) in cash when they searched his home in May 2011 along with three computers.
PSNI investigating officer Detective Constable Yolande Healey said: "Mahony had been running this illegal website for years. He thought he could collect substantial amounts of advertising revenue from his site and distance himself from the actual hosting of an illicit copy of a film by using unrelated third party websites.
"We were contacted by the Federation Against Copyright Theft (FACT) about Mahony's activities and began a lengthy and complex investigation which resulted in his arrest and subsequent admissions.
"From his bedroom in Carnhill, Mahony thought he could make money from advertisers who were attracted by the volume of traffic from across the world on his website. He thought his form of cyber-crime was untouchable. He was wrong. Working with partner agencies, police will investigate any reports of criminality online."
FACT Director General Kieron Sharp said: "This is an important case. Committing crime using the internet is viewed by some as being less serious than more 'traditional' offending, which is particularly true of film and television piracy. This prosecution and sentence show that you cannot hide behind the supposed anonymity of the cyber world and that you will be identified, caught and convicted. "
Detective Inspector Conor McStravick, from Reactive and Organised Crime Branch, said: "This is not a victimless crime. The film industry is an important and growing employment sector in Northern Ireland. Illegal activity which reduces revenue streams to the industry has the potential to adversely affect people's jobs and the local economy."