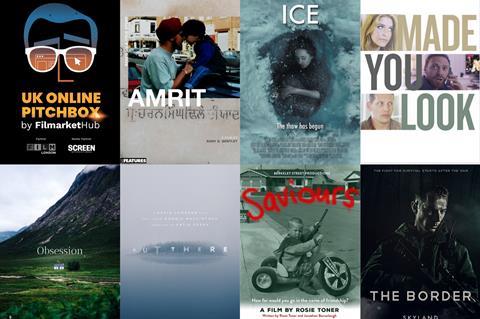 Online development marketplace Filmarket Hub has announced the projects in development selected for the UK Online Pitchbox, the new virtual pitch event that runs July 2-3, in partnership with Film London.
Teams representing seven British feature films and scripted series will pitch to companies including Bankside Films, BBC Films, Curzon, Entertainment One, Film4, FilmWave, Gaumont, Lionsgate, NBCUniversal International Scripted, Neal Street Productions, Protagonist Pictures, Studiocanal, SunnyMarch Productions and Wild Bunch TV.
Selected feature films in development
Amrit, written and directed by Rory D. Bentley
Ice, written by Stéphanie Joalland, produced by Sean McConville (Frenzy Films)
Made You Look, written by Joe Graham, directed by Martyn Chalk, produced by Barrie Chalk (Lone Palm Studios)
Obsession, written and directed by Nicole Pott
Out There, written by Ronnie Mackintosh, directed by David Lumsden, produced by Katie Crook (Blue Iris Films)
Saviours, written by Rosie Toner and Jonathan Barraclough, directed by Rosie Toner
The Border, written by Norman Tamkivi and Luke Hunter, directed by Norman Tamkivi, produced by Alessandro Wingfield (Skyland Films)
Selected scripted series in development
A Suitable Candidate, created by Michael Woodward and Max Barron
Lady Charon, created by Jessica Romagnoli and Patrick Ireland
Life In Non League, created by Lewis Coleman and Rob Sadler
Local Boys, created by Darren Ripley and Ben Pickering
Our Own, created by Cass Virdee and David Giles
Sinkholes, created by John Shackleton
Wedding Season, created by Ella Jones, Rob Thorman and Elaine Gracie
In 2018 and 2019, Filmarket Hub hosted London TV Pitchbox; a live pitch event dedicated to British scripted series in development. The first edition included a case study on 'Peaky Blinders', led by Executive Producer Jamie Glazebrook. The second edition took place in September 2019 with screenwriter Peter Harness opening the event with a talk on his experience writing on shows such as Doctor Who and McMafia.