eOne's David Brent: Life On The Road disappoints with $1.9m (£1.46m) from its 506 sites.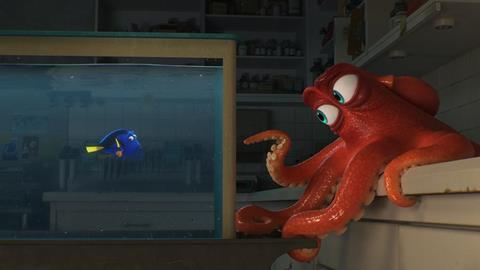 UK TOP FIVE
| Ranking | Film/Distributor | Weekend gross | Running total |
| --- | --- | --- | --- |
| 1 | Finding Dory (Disney) | $3.8m (£2.87m) | $42.3m (£32.3m) |
| 2 | Suicide Squad (WB) | $3.3m (£2.54m) | $36.2m (£27.67m) |
| 3 | David Brent: Life On The Road (eOne) | $1.9m (£1.46m) | $1.9m (£1.46m) |
| 4 | Jason Bourne (Universal) | $1.7m (£1.26m) | $25.8m (£19.72m) |
| 5 | The BFG (eOne) | $1.6m (£1.23m) | $33.7m (£25.76m) |
(Note - Dollar conversions are based on today's rates)
DISNEY
Few things make distributors happier than rain, and Disney will be especially grateful as Finding Dory reclaimed the top spot at the UK box office in its fourth week.
The latest Pixar offering boosted 18% as it swam to $3.8m (£2.87m), achieving the rare feat of regaining top spot later in its run. A few, like Ice Age: Continental Drift, have done it in their third weekend, while back in 2012, Skyfall reclaimed number one in its sixth weekend.
Finding Dory is now up to a terrific $42.3m (£32.3m) after it added more than $2.6m (£2m) during its third Mon-Thurs session. It's now neck-and-neck with The Incredibles as the seventh biggest Pixar outing in the UK, and should overtake Up's $45.3m (£34.59m) by the end of next weekend.
Also for Disney, Pete's Dragon held well from its soft opening with a $1m (£793,688) second weekend for $3m (£2.3m) to date.
The remake enjoyed the best day of its run to date on Saturday [Aug 20] and was the third-biggest family offering this weekend, behind Finding Dory and The BFG but ahead of all new starters.
WARNER BROS
Suicide Squad fell 40% with a $3.3m (£2.54m) third weekend as it dropped to second.
Warner Bros' latest DC Entertainment adaptation is now up to a decent $36.2m (£27.67m). It enjoyed a better third weekend than stablemate Batman v Superman and should soon join this year's £30m club.
Also for Warner Bros, Lights Out enjoyed a solid start as it creeped to $1.5m (£1.13m) from its 440 sites.
That marks a $3,348 (£2,559) site average for the James Wan-produced original horror. It will hope to enjoy a healthy midweek as the major horror out in the market, before it will aim to scare off The Purge: Election Year this coming weekend.
EONE
David Brent: Life On The Road might be this week's highest new entry, but eOne will likely be disappointed with the opening.
The Office spin-off travelled to $1.9m (£1.46m) from its 506 sites, marking an average of $3,774 (£2,884). It's Ricky Gervais' solo directorial debut but The Invention Of Lying, co-directed with Matthew Robinson, opened with $2.3m (£1.74m) from 368 sites.
In terms of big screen outings for UK comedy characters, the film opened behind Absolutely Fabulous: The Movie ($5.3m/£4.04m from 615 sites) and Alan Partridge: Alpha Papa which took $2.8m (£2.18m) from 441 sites, although that included $974,000 (£744,000) in previews.
David Brent: Life On The Road will hope to buck the usual fast-burn trend for these kind of films and hold well this coming weekend, as well as enjoy decent midweek returns.
Also for eOne, The BFG boosted 11% as it marched to a $1.6m (£1.23m) fifth weekend from its 575 sites.
The Roald Dahl adaptation is now up to a superb $33.7m (£25.76m) and after adding $1.3m (£1m) over the past Mon-Thurs, will look to make the most of the final weeks of the school holiday. A £30m result is unlikely, but not yet an impossibility.
UNIVERSAL
Jason Bourne fell only 13% as it shot to a $1.7m (£1.26m) fourth weekend as it dropped one place to fourth.
Universal's action sequel is now up to $25.8m (£19.72m) as it attempts to chase down The Bourne Ultimatum's $31.4m (£24m) result as the current best result for the series.
Also for Universal, The Secret Life Of Pets posted an increase in its ninth weekend as it took $461,000 (£352,252) for an excellent $44.1m (£33.71m) to date. Finding Dory will however soon take its crown as the year's biggest animation.
STUDIOCANAL
Swallows And Amazons sailed to a non-final $884,000 (£675,613) UK debut from its 452 sites through Studiocanal.
The adaptation likely suffered from the continued success of Finding Dory and The BFG, while Pete's Dragon also offers significant family competition. With the market set to get even busier this weekend, it could struggle to make an impact.
Also for Studiocanal, acclaimed documentary Tickled ruffled up $34,000 (£25,602) from its 14 sites.
LIONSGATE
Including previews of $161,000 (£122,862), Lionsgate's Nine Lives got off to an $833,000 (£636,809) start at the UK box office from its 372 sites.
Given the weak reviews, especially compared to other family offerings currently on release, it's a solid start, but it'll have to do most of its business over the coming week before children go back to school.
Also for Lionsgate, Nerve fell 35% on its way to a $513,000 (£392,244) second weekend for $2.3m (£1.75m) to date.
FOX
Falling more than 40% (excluding previews), Fox's Mike And Dave Need Wedding Dates took $521,000 (£397,478) for a 12-day tally of $2.7m (£2.03m).
PARAMOUNT
In its fifth weekend, Paramount's Star Trek Beyond phased to an extra $516,000 (£394,000) for $19.6m (£14.98m), and it will cross £15m today [Aug 22].
SONY
The Shallows dived 43% on its way to a $500,000 (£382,000) second weekend.
Sony's single-location thriller is up to $2.2m (£1.7m) and is unlikely to catch director Jaume Collet-Serra's House Of Wax ($3.9m/£3m) as his highest-grossing film outside of his Liam Neeson collaborations.
SODA PICTURES
The Childhood Of A Leader enjoyed a healthy start to its UK run with a $69,000 (£52,885) debut from its 23 sites.
Soda Pictures released the film after its original distributor Metrodome was placed in administration last week.
CURZON ARTIFICIAL EYE
In its second weekend, Curzon Artificial Eye's Valley Of Love grossed $7,100 (£5,454) from its ten sites for $64,000 (£48,670) to date.
Also for Curzon Artificial Eye, Almost Holy posted a one-site debut of $1,000 (£792).
VERTIGO RELEASING
From its four sites through Vertigo Releasing, Black recorded a UK bow of $2,300 (£1,760).
UPCOMING RELEASES
This week sees saturation releases for Lionsgate's Mechanic: Resurrection, Warner Bros' War Dogs, Entertainment's Bad Moms and Universal's Popstar: Never Stop, Never Stopping.
Universal's The Purge: Election Year receives a wide release, while Fox/Pathe's Julieta and Signature Entertainment's Kids In Love are among the films receiving a limited release.