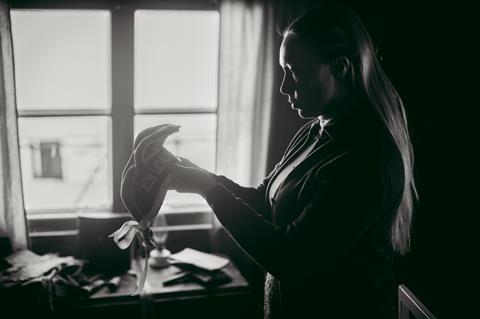 Katja Gauriloff's Je'vida, the first feature to be made in the Skolt Sami language was awarded the best fiction project award at the Finnish Film Affair (FFA) in Helsinki this week.
The film is now in post-production and tells a very personal story of a woman forced to assimilate into a culture that is not her own and abandon her own language and culture. Gauriloff, who is of Skolt Sami heritage, said the story is based on the experiences of her mother, growing up post-war Finland. The film is shot in black-and-white and the clips shown at FFA drew favourable comparisons from industry delegates to Pawel Pawlikowski's Cold War.
It is Gauriloff's second ficiton feature following Baby Jane in 2019. Je'vida is produced by Joonas Berghäll of Finland's Oktober.
The FFA fiction jury was comprised of Jason Gutierrez, programmer at Tribeca Film Festival, Eleonora Pesci, acquisitions executive at Curzon, and Claire Willats, director of film Nordics at Netflix. They said of Je'vida: "The winning project is a story that needs to be told, with real potential to become relatable globally. The presentation and cinematography felt personal, beautiful and visually striking."
The jury also presented an award for best Nordic project to Icelandic director Helena Stefáns Magneudóttir's Natatorium, a dramatic thriller about a family matriarch and the secrets she keeps, that is now in production. Denmark's Level K swooped for international rights to the film that is produced by Sunna Guðnadóttir of Bjartsýn Films, Julia Elomäki of Tekele Productions, and Heather Millard of Silfurskjár.
The FFA jury said of Natatorium: "This is an intriguing project that we'd love to follow and explore more. Despite having just started filming, the film already feels like it has a distinctive, atmospheric voice and a style that grabbed our attention."
The FFA prize for best documentary project was awarded to Mohamed El Aboudi's The Last Chapter, about a three immigrants to Finland from Africa as they enter old age and contemplate issues of family, identity and support. It is produced by Kirsi Mattila.
The doc jury, comprised of Pierre-Alexis Chevit, head of Cannes Docs at Cannes' Marché du Film, Poppy McAlister, sales manager at TVF International, and Shane Smith, artistic director at Hot Docs, said of The Last Chapter: "The project tackles complex and universal questions that will become more and more relevant, and haven't been touched before. The jury felt the creative intention of the director very strongly and believes this award can help the project realise its potential."
Each FFA award is worth €3,000, and is sponsored by Finnish Film Foundation, Konstsamfundet and AVEK respectively, with the prize going towards the project's international marketing (best fiction and Nordic) or making an international trailer (best documentary).
The 11th edition of FFA was the biggest to date, with 500 guests from 22 countries. "Compared to our last non-hybrid edition in 2019, we've had a 25% increase in attendance. It really shows the strength and appeal of both the local industry and our event," said Maria Pirkkalainen, head of Finnish Film Affair & Nordic Flair.
Hot projects
Further Nordic projects to pique the interest of international attendees included Christian Arhoff's Danish romantic comedy Viktor Vs The World, about a man sheltered from the world by his mother who ventures to look for his father in the city. It is produced by Robin Hounisen and Daniel Muhlendorph of Hyaene Film and is now in the edit suite.
From Finland, two features appealing to upscale older female audiences went down well: Selma Vilhunen's Four Little Adults, about a woman who tries to navigate her husband's affair by suggesting a open marriage, which is produced by Vilhunen's own Tuffi Films and now in post; and Pamela Tola's The Worst Idea Ever, which probes the issue of difficult friendships by portraying two women, one keen to hang on theri childhood bond, the other ready to move on and marry. It is produced by Helsinki Filmi with Aurora Studios.

In development, Chili Love was a well-liked pitch from Finnish director Jojo Erhotlz and producer Nina Laurio of Dionysos Films. The romantic drama is set against the backdrop of an international chili master competition and will tell the story of a woman looking to find her tribe among fellow chili-growing enthusiasts.
Thea Hvistendahl's Handling The Undead, about an odd day in Oslo when the dead return to their families, stars Renate Reinsve and Anders Danielsen LIe, has already sold to Neon for the US and the UK via TrustNordisk and is expected to be a festival contender in 2023.
Finnish documentary pitches of note included Aira Vehaskari's Impossible Mardi Gras, about staging the legendary New Orleans Mardi Gras during the challenges of the Covid-19 lockdown, produced by Napafilms, and Arto Halonen's In The Ballpark Of Finland, about two Black American basketball players who moved to Finland for their careers and brought up their sons as Black Finnish-Americans. It is produced by Helsinki's Art Films Productions.