EXCLUSIVE: Production is underway in London and Rome on Richard Loncraine's British comedy 'Finding Your Feet'.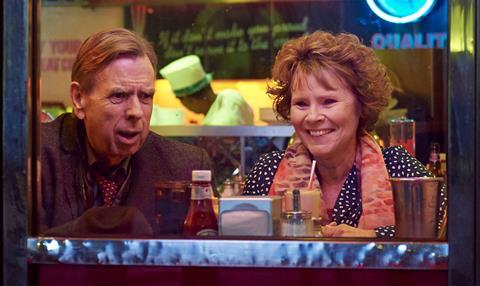 Screen can reveal an exclusive first look at Timothy Spall and Imelda Staunton in British comedy Finding Your Feet.
The film follows Lady Sandra Abbott (Staunton) who, after discovering that her husband of forty years is having an affair, takes up a community dance class with her sister, where she finds a new lease of both fun and romance.
The cast is rounded out by Celia Imrie (The Second Best Exotic Marigold Hotel), Joanna Lumley (Absolutely Fabulous), David Hayman (The Jackal), John Sessions (Mr Holmes) and Josie Lawrence (EastEnders).
Richard Loncraine (Wimbledon) directs the feature from a script by Meg Leonard and Nick Moorcroft (Urban Hymn). John Sachs and Andrew Berg produce for Eclipse Films with Nick Moorcroft and Meg Leonard for Powder Keg Pictures, James Spring for Fred Films, and Charlotte Walls for Catalyst Global Media.
Executive producers are Brian Berg, Lynne Berg, Graham Begg, John Stevens, Jay Firestone of Prodigy Pictures, Bob Benton of Bob & Co and Richard Whelan.
Key crew include editor Alex Mackie (Kill Command), production designer Jon Bunker (Croupier), costume designer Jill Taylor (The Full Monty), and DOP John Pardue (The Girl).
Protagonist Pictures are handling worldwide sales and have already struck multiple deals including with Entertainment One (UK, Canada, Australia and New Zealand), California Filmes (Latin America), and DD Dream (China).