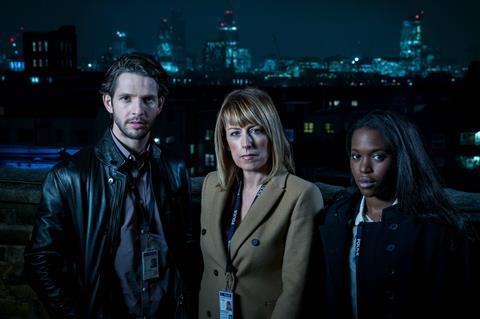 North American streaming channel Acorn TV has given a two-season straight-to-series commission to London Kills, a UK-set drama from Footballers' Wives creator Paul Marquess.
The series is currently casting and is scheduled to go into production in May. Acorn Media Enterprises, the UK-based development division of the RLJ Entertainment channel, will co-produce with Marquess' PGMTV.
The companies will shoot the two series – each consisting of five one-hour episodes – back-to-back, with a North American debut expected next winter.
Acorn Media International will distribute in all English-speaking territories and ZDF Enterprises in the rest of the world.
Created for television and co-written by Marquess (who most recently co-created crime drama Suspects, pictured, for the UK's Channel 5) with Sarah-Louise Hawkins, Jake Riddell, Sally Tatchell and Claire Fryer, London Kills will dramatise the experiences of a team of homicide detectives, with each episode focusing on a different case. There will also be serial story involving the lead detective's missing wife.
The series is the second commission by Acorn, the OTT service offering US and Canadian audiences programming from the UK, Australia, New Zealand, Ireland, Canada and other European countries. The platform recently gave US premieres to the third season of BBC comedy Detectorists, ITV drama Girlfriends and the second season of Irish legal drama Striking Out.
Acorn Media Enterprises managing director Shane Murphy said: "After announcing our first commission with [series two of] Agatha Raisin, Acorn Media Enterprises and Acorn TV are thrilled to not only commission another high-quality production but make London Kills our first straight-to-series commission and produce two seasons back-to-back. With its compelling, fast-paced scripts and the creativity of Paul Marquess, London Kills will make an excellent addition to Acorn TV's rapidly growing originals slate."
PGMTV managing director Marquess added: "I'm delighted to be making London Kills for Acorn. I'm convinced that London is the perfect backdrop for a contemporary police series. Shane Murphy loved the idea from the first pitch – and he and his team have been brilliantly supportive throughout the process.
"With acutely drawn regular characters and a variety of compelling murder investigations – as well as an intriguing serial narrative running right through it – London Kills is shaping up to be a sharp, smart, timely procedural drama. We can't wait to start shooting."