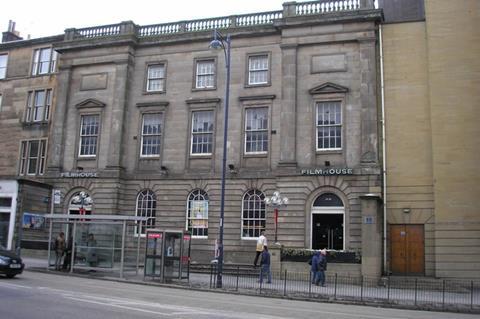 A fundraising campaign, spearheaded by former Edinburgh Filmhouse staff, is underway to re-open the 88 Lothian Road building as a cinema next year by raising £1.25m.
Former Edinburgh Filmhouse staff James Rice, Rod White, David Boyd and Ginnie Atkinson formed Filmhouse (Edinburgh) in late December 2022, which was granted charitable status this summer.
Filmhouse (Edinburgh) has agreed an interim lease of six months with property management company Caledonian Heritable, who bought the 88 Lothian Road building in April, after it was put up for sale following parent company the Centre for the Moving Image (CMI) collapse in October of last year. The CMI also ran the Edinburgh International Film Festival (EIFF) and Aberdeen's Belmont Filmhouse.
Caledonian Heritable is undertaking a series of upgrades to the run-down building, and will gift all projection equipment to the new Filmhouse.
Once Filmhouse (Edinburgh) has raised sufficient funds to refurbish the interior of the building, which it hopes to achieve with the help of an online Crowdfunder, it will enter a 21-year lease with Caledonian Heritable, operating once again as an independent cinema venue.
The re-opened Filmhouse's programme will balance commercial indie fare with smaller titles, and have an in-house café-bar to support the charity.
"We've had a lot of ups and downs, but this is really encouraging," said Rice. "It's nice to be in a position where we can see the path ahead. There's a long way to go, but we have a sense of what's needed, and what has to happen."
"We had a narrow escape," added Atkinson. "The first purchasers [Signature Group] definitely were going to open a pub, but fell out because they couldn't guarantee the right licence."
The Filmhouse team hopes the cinema will once again be a hub for EIFF, which was revived by Screen Scotland following the CMI's collapse and ran this year as a streamlined event with the support of the Edinburgh International Festival. The Filmhouse aims to re-open by summer of 2024, in time for next August's edition of EIFF.
"This will of course be a decision that is in other people's hands, but for our part, we would love to see them back here and considering this place to be their home," said White.
Following the news that Filmhouse (Edinburgh) had secured an interim agreement with Caledonian Heritable, Screen Scotland confirmed it has awarded the charity £60,000 to support its planning and development work in the near-term.
"Ginnie, James, David and Rod have worked incredibly hard over the last few months to secure this opportunity for the city and Scotland," said David Smith, director of Screen Scotland. "I know that everyone round the table shares the same ambition – one also held by those many campaigners who raised their voices in support of the Filmhouse across recent months – to see the Filmhouse projectors kick back into life and the seats full of cinema lovers for decades to come. That's an ambition Screen Scotland is very happy to support."
A Caledonian Heritable spokesperson added: "Caledonian Heritable have a long-standing appreciation of the vital importance of culture and the arts to the City of Edinburgh. We are pleased to be working with Filmhouse, Creative Scotland and the City of Edinburgh Council in anticipation of a new era at this key cultural venue."
The CMI also ran the Belmont Filmhouse in Aberdeen. The building was owned by the Aberdeen city council, which yesterday (September 12) revealed its preferred new operator to be community-led group Belmont Community Cinema, with plans afoot for it to re-open by the summer of next year.