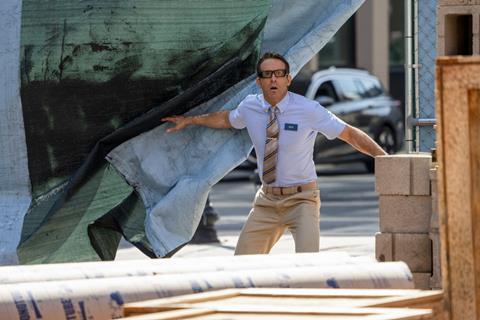 Worldwide Box Office August 13-15 2021
| Rank | Film (Distributor) | 3-day (World) | Cume (World) | 3-day (Int'l) | Cume (Int'l) | Territories |
| --- | --- | --- | --- | --- | --- | --- |
| 1 | Free Guy (Disney) | $50.9m | $50.9m | $22.5m | $22.5m | 42 |
| 2 | Raging Fire (various) | $26.3m | $122.2m | $26.3m | $122.2m | 3 |
| 3 | The Suicide Squad (WB) | $24.7m | $118m | $17m | $75.2m | 71 |
| 4 | Jungle Cruise (Disney) | $15.7m | $154.1m | $6.7m | $72m | 50 |
| 5 | Don't Breathe 2 (Sony) | $14m | $14m | $3.4m | $3.4m | 24 |
Credit: Comscore, all figures estimates
Disney's 'Free Guy' buoyed by strong North America numbers
A relatively rare big-budget studio film that is not based on existing IP, Free Guy has made an encouraging start for Disney, with an estimated debut of $28.4m for North America, $22.5m in international territories, and $50.9m worldwide.
The North America number is ahead of projections that were in the mid-to-high teens millions. The 20th Century Studios film enjoys an exclusive 45-day theatrical window and is not simultaneously available on Disney+. (See North America box office report.)
For international, Free Guy opened at the top of the chart in 24 of its 41 territories, and was led by the UK and Ireland with an estimated $3.4m. Russia/CIS ($2.9m), South Korea ($1.4m), Japan ($1.3m) and France ($1.1m) come next, with Saudi Arabia and Australia tied on $1.0m.
Dampening box office is a range of restrictions including several state-wide lockdowns in Australia, the need for vaccination passports in France and Italy, a state of emergency in parts of Japan, level-4 restrictions in South Korea, and closures in much of south-east Asia.
Free Guy has not yet opened in China, Spain and Brazil as well as Malaysia, Indonesia, Thailand, India, Philippines, Vietnam, Portugal, South Africa and Uruguay. Disney estimates that in international territories, Free Guy's opening was 9% ahead of Cruella and only 18% behind Jungle Cruise for the same suite of markets at current exchange rates.
Ryan Reynolds stars as an NPC – non-player character – in a violent videogame, who gains agency and becomes the hero of his own story when he learns the truth about the world he inhabits. Also starring for director Shawn Levy are Jodie Comer, Joe Keery, Taika Waititi, Lil Rel Howery, Utkarsh Ambudkar and Channing Tatum.
Free Guy opens this coming weekend in Spain, Brazil, Portugal, South Africa and Uruguay.
'The Suicide Squad' sees audiences shrink worldwide
UPDATED: Warner Bros' The Suicide Squad was hit by competition from Free Guy, falling by 70% in North America, with an estimated $7.8m for its second weekend of play – taking the total there to $42.9m. For international, the drop was less severe on approximately 51%, with the confirmed $16m weekend tally boosted by a new opening in Japan that generated $1.9m. International total is $75.4m, and global tally is $118m.
Japan was the top international territory at the weekend, ahead of Russia/CIS, UK and Ireland, Brazil (where Free Guy has yet to open) and Australia (where The Suicide Squad resisted the challenge of Free Guy, narrowly holding on to the top spot).
In cumulative totals, UK and Ireland – one of five markets that opened a week ahead of the main global release date – is way ahead of the pack, with a confirmed $14.9m. Next come Russia/CIS ($7.2m), France ($4.5m), Germany ($3.8m), South Korea ($3.5m) and Mexico ($3.5m).
The Suicide Squad is released in cinemas and on HBO Max in those territories where the service operates – currently comprising US, Mexico, Latin America, South America and the Caribbean.
In the global box office chart, The Suicide Squad fell from first to third place, beaten not just by Free Guy but also by Raging Fire, which is only playing in China, Malaysia and Taiwan. (See China box office report.)
Despite positive reviews, The Suicide Squad, directed by James Gunn (The Guardians Of The Galaxy), will fall well short of the global tally achieved by David Ayer's Suicide Squad, which reached $747m in 2016. A more realistic target is franchise spin-off Birds Of Prey, which opened in February 2020 (when the Covid pandemic was already impacting Asian markets) and managed a final total of $202m.
'Jungle Cruise' hits $150m worldwide
Launching with a $61.8m global debut, falling almost exactly in half with a $30.8m second session, Jungle Cruise continues along its decline trajectory with an estimated $15.7m for its third weekend of play. Breakdown is $9.0m in North America (for $82.1m so far), $6.7m in international (and $72.2m so far). Those numbers push Jungle Cruise through the $150m barrier, with a $154.3m global total.
In cumulative totals, UK and Ireland leads the international pack with an estimated $11.7m, ahead of Russia ($7.4m), Japan ($6.0m), France ($5.1m) and Saudi Arabia ($3.3m).
The film is available simultaneously via Disney+ Premier Access.
'Paw Patrol' opens strongly in France, UK
Paramount reports an encouraging start for the launch of family film Paw Patrol: The Movie in six international markets, with an estimated $5.8m including previews. Hero performers were UK and Ireland, with $3.2m (landing just behind Free Guy), and France, with a chart-topping $2.3m. Other early markets for the film include Belgium, Colombia and Ecuador.
Next weekend sees Paw Patrol: The Movie land in North America and 33 more international territories including Germany, Mexico, South Korea, Japan and Middle East.
Paw Patrol is based on the Canadian animated TV series, produced by Spin Master Entertainment, and carried in the US by Nickelodeon. Cal Brunker (The Nut Job 2: Nutty By Nature) directs.
'Fast & Furious 9' pushes past $500m in international markets
UPDATED: Universal's Fast & Furious 9 passed a box office milestone at the end of last week, reaching $500m outside North America. Adding in a weekend tally of $8m, the international total now stands at $509.4m. Worldwide, it's $681.5m.
Universal's film is the first Hollywood title to reach $500m in international markets since 2019, and is only the third to do so overall (in addition to China's Hi, Mom and Detective Chinatown 3).
Fast & Furious 9 received a weekend boost thanks to opening in Taiwan (with a confirmed $1.8m). Top holdover market was Japan, with $3.5m for the second weekend of play there, and a total so far of $19.7m. Last Monday was a national holiday in Japan, delivering $2.4m for Fast & Furious 9.
With $681m, the film has now reached 55% of Fast & Furious 8's $1.24bn global total, and is 90% of the way to matching spinoff Hobbs & Shaw's $759m total. Fast & Furious 9 opens in Italy this Wednesday (August 18).
'Don't Breathe 2' makes $3.4m international debut
Sony's Don't Breathe 2 has landed in fifth place in the global box office chart with an estimated $14.0m debut – but that's largely down to its North America number, $10.6m. For international, the film earned an estimated $3.6m in 23 territories. Latin America launched to $1.5m, and Russia/CIS to $650,000. Next key markets to open are France (August 25) and Australia (August 26).
The Stage 6 Films and Screen Gems title is a sequel to 2016's Don't Breathe, which saw a trio of thieves meet their match when they break into the home of a blind man (Stephen Lang). With a budget around $10m, Don't Breathe proved a highly profitable release for Sony, grossing $89.2m in North America, $68.6m in international markets, and $157.8m worldwide.