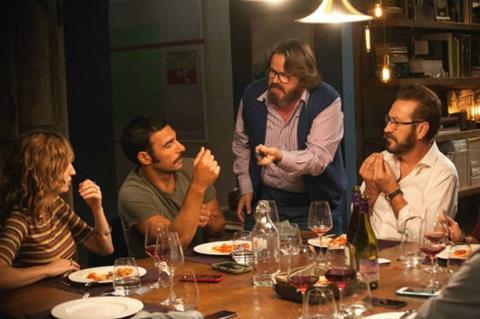 Gulf region partners Dubai-based Front Row Filmed Entertainment and the Kuwait National Cinema Company have acquired Arabic-language remake rights to Italian hit Perfect Strangers (Perfetti Sconosciuti) from Rome-based Medusa Film.
Dubai and Beirut company Empire International and Film Clinic, the Cairo-based production house behind Cannes titles Yomeddine and Clash, have also boarded the project as co-producers.
Produced by Medusa Film, Leone Film Group and Lotus Productions, Paolo Genovese's comedy drama Perfect Strangers grossed more than $20m at the Italian box offic and $31m internationally in 2016.
It also picked up several David di Donatello awards for best picture and best screenplay, and won the best screenplay prize at the 2016 Tribeca Film Festival in the international narrative competition section.
Perfect Strangers is about seven long-time friends who decide to play a game over dinner by putting all their mobile phones on the table, to reveal every text message or phone call they receive that evening.
"Whether you're a man or a woman, we all have something to hide… lying is universal. Paolo Genovese and team have delivered one of the cleverest and universally adaptable scripts known to contemporary cinema," said Front Row managing director Gianluca Chakra.
Chakra negotiated the deal with Faruk Alatan at Medusa. Film Clinic's Mohamed Hefzy, KNCC's Hisham Alghanim and Empire's Mario Jr. Haddad are also attached to produce and finance.
Perfect Strangers has spawned a remakes in Spain, where it grossed over $25m, Greece ($1.8m) and Turkey ( $1.7m). Most recently, a French-language version, Fred Cavayé's Le Jeu, starring Bérénice Béjo, Suzanne Clément, Roschdy Zem and Vincent Elbaz, was released in France this month.
Other versions for Germany, Sweden, Korea and Russia are also in the works. The Weinstein Company also acquired the English language remake rights in 2016, with Gianni Nunnari (The Departed, Shutter Island) attached to produce, although the status of the project is now unclear.
Front Row president and KNCC General Manager Hisham Al Ghanim said the partners were keen to acquire other feature properties with remake potential for the MENA region.
"The aim for us is to find different business models encouraging co-productions between the Arab world bridging the different cultures, introducing new talent and eventually gaining more markets. With the right material, this can be done," he said.
Front Row/KNCC and Empire will theatrically distribute the film in the Gulf and the Levant. Film Clinic will handle its theatrical release in Egypt. Front Row will handle all post-theatrical sales across the region.
Dubai-based Front is an independent distribution company, acquiring distribution rights for the entire MENA region. It is partnered with KNCC, which controls a 97% market share in the Kuwaiti exhibition market.