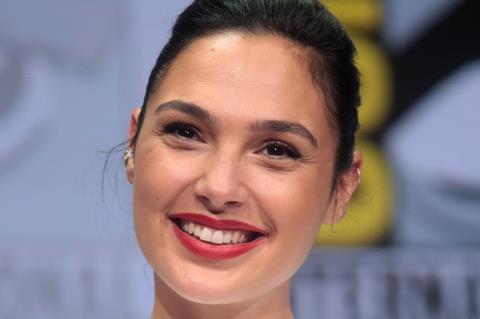 The 29th annual Palm Springs International Film Festival (PSIFF) will present Gal Gadot with the Rising Star Award - Actress at its annual Film Awards Gala for her performance in Wonder Woman.
The Film Awards Gala, hosted by Mary Hart, will be held on January 2 at the Palm Springs Convention Center. The Festival runs January 4-15, 2018.
Gadot portray's the Amazonian princess and warrior. Warner Bros. Pictures' Wonder Woman, based on the DC character, earned more than $410m in the US and more than $820m worldwide, set numerous box office records, including becoming the highest-grossing film directed by a woman, the highest-grossing superhero origin film domestically, and the largest opening for a female-led comic-based film.
Chris Pine stars alongside Gadot in the film directed by Patty Jenkins from a screenplay by Allan Heinberg, story by Zack Snyder & Heinberg and Jason Fuchs.
Gadot was crowned Miss Israel in 2004, then went on to serve two years in the Israel Defense Forces. She studied at IDC Herzliya College before pursuing modeling and acting. While cultivating television work both in Israel and the US, Gadot made her film debut in Fast & Furious, and appeared in its sequels Fast Five and Fast & Furious 6. Additional credits include Date Night, Knight And Day, and Keeping Up With The Joneses.
Gadot was cast as Wonder Woman in Batman v Superman: Dawn Of Justice. She will reprise the character in the DC extended universe film Justice League, to be released on November 17, 2017.
"Gal Gadot's Wonder Woman showed us a strong, capable, poised, curious and compassionate character, and her performance has been universally praised, resonating with audiences everywhere. Gal plays the immortal warrior so well, and the film's themes are especially apt for today, empowering all types of people—women and men, young and old—the world over," festival chairman Harold Matzner said. "The Palm Springs International Film Festival is honoured to present Gal Gadot with this year's Rising Star Award - Actress."
Past recipients of the Rising Star Award include Ruth Negga, Alicia Vikander, Jennifer Lawrence, Scarlett Johansson, Anna Kendrick and Dakota Fanning.