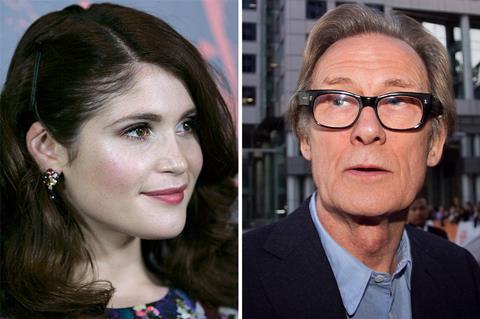 Their Finest co-stars Gemma Arterton and Bill Nighy have been set to lead the voice cast of family animation Spacedog and Turbocat, which Kaleidoscope Film Distribution (KFD) will launch at the AFM in Los Angeles next month.
According to the production, the film will follow 'loyal canine Buddy and feline vigilante Felix on an animated superhero adventure about friendship, heroism and finding your way back home'.
Written and directed by first time feature filmmaker Ben Smith, the film is being produced by UK animation company Red Star 3D and executive-produced with Kaleidoscope. Other voice cast is due to be announced shortly.
Red Star 3D's Jan Rogowski will serve as co-producer with animation led by Jerome Boutroux, who has previously worked on movies including Edge Of Tomorrow, Guardians Of The Galaxy and Paddington.
Finance is due to come from private sources arranged by Red Star 3D.
The deal was signed by KFD CEO, Spencer Pollard in conjunction with Ben Smith, of Red Star 3D.
Quantum Of Solace actress Arterton is currently filming lesbian romance Vita And Virginia about the love affair between Vita Sackville-West and literary icon Virginia Woolf.
Nighy has recently starred in The Limehouse Golem and Their Finest, which both scored solid business for Liongate in the UK.
Pollard commented: "I first met Ben a few years ago and was impressed with his drive and commitment to moving into feature animation production. When the team took a look at the script, promo and cast being assembled, plus Ben and Red Star's dedication to making an outstanding film, we were bowled over and wanted to come on board immediately.
"We're very excited to be bringing this film to the International marketplace."
The project marks the first feature for Sheffield-based Red Star 3D, which has previously worked on a number of 3D and 4D films for attraction rides. The company was founded by Smith and Rogowski in 2004.
Smith added: "Superhero movies are still routinely topping the box-office, and we saw a gap for an animated, family-focused superhero franchise which we believe is going to captivate audiences around the world with its humour, heroics and charm."
Kaleidosope, whose slate also includes Irvine Welsh's Alan McGee biopic Creation Stories and David Blair's upcoming WWII feature Hurricane, will represent world rights on the family feature and will screen a promo at the AFM.