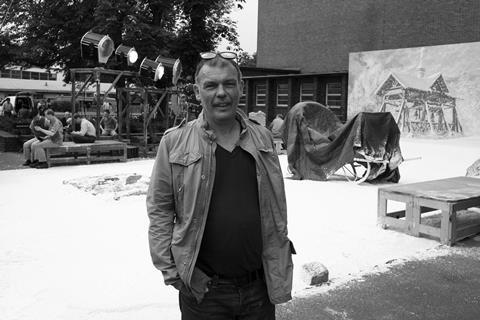 The German film community is mourning producer Tom Zickler, who died aged 55 on Monday (September 2) after a brief, but very severe illness.
"We are stunned, devastated and deeply sad," Christoph Fisser, board member of Studio Babelsberg and co-managing director with Zickler of Traumfabrik Babelsberg, said. "The German film landscape loses one of the greatest film producers and most passionate storytellers, who knew like no other how to enthral the audience. Cinema was his life. Far too early We have to bid farewell far too early to a wonderful person and good friend of many years standing."
Born in 1964, Zickler had studied film production at the HFF Babelsberg Konrad Wolf from 1989 to 1995 after working at the former East German state film studios DEFA from 1986 to 1989.
At the beginning of the 1990s, he joined forces with the actor Til Schweiger to launch theIr production outfit Mr Brown Entertainment and later Barefoot Films, producing such box-office hits as Knockin' On Heaven's Door (1997), Barefoot (2005), Keinohrhasen (2007), Zweiohrküken (2009) and Honig im Kopf (2014).
In 2009, Zickler collaborated with The Lives Of Others producers Max Wiedemann and Quirin Berg to produce the comedy road movie Friendship! by Markus Goller which was based on his adventures in the USA after the fall of the Berlin Wall in November 1989.
Zickler was reunited with Goller when he served as one of the co-producers on another road movie comedy by the director, 2018's 25 KM/H, through the new production company Traumfabrik Babelsberg.
This outfit had been launched by Zickler at the beginning of 2017 with Studio Babelsberg to focus on developing and producing more German feature films in Babelsberg, both as in-house projects and third party co-productions.
Another project where Traumfabrik Babelsberg served as co-producer was Christian Alvart's action thriller Steig.Nicht.Aus!, produced with Syrreal Entertainment, Telepool and broadcaster ZD.
Zickler's last production Traumfabrik - set in the Babelsberg dream factory during the summer of 1961 and about a young extra at the DEFA studios who falls in love with a French dancer appearing in an international production shooting there - was another very personal project for the producer harking back to his own time working at the studio complex.
"It has always been my goal to make exactly this film - and I have fulfilled this life's dream with Traumfabrik," Zickler said about the romantic comedy directed by Martin Schreier and starring Dennis Mojen and Emilia Schüle, which had been released by co-producer Tobis Film at the end of June.