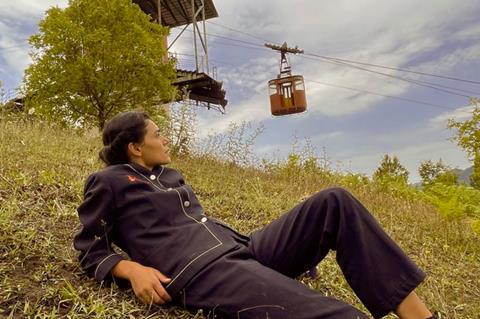 German director Veit Helmer has returned to the Caucasus for the third time to shoot his latest feature film Gondola (working title) in the Georgian mountains, following his 2008 Azerbaijan-set Absurdistan and 2018 silent comedy The Bra, set in Azerbaijan and Georgia.
Principal photography started last week on a 36-day shoot which is set to run until the end of September. The film tells the story of two female cable car operators who fall in love as pass each other in their gondolas travelling between a mountain village and the town in the valley below.
It stars French actress Mathilde Irrmann, known for her role in the Bad Banks TV series, and Georgia's Nini Soselia whose previous credits include In Bloom (2013) and Little Red Riding Hood (2018).
Helmer is working with a 100% Georgian crew including for the first time with the DoP Goga Devdariani who collaborated with Salomé Jashi on her documentary Taming The Garden which had its world premiere at the Berlinale's Forum this year.
Speaking to Screen, Helmer said the inspiration for Gondola's story came after his Georgian partner Tsiako Abesadze – who had been his line producer on The Bra - had shown him locations in the Georgian mountains near the Black Sea coast when he was visiting the Batumi International Art-House Film Festival in September 2019.
He wrote the screenplay for the film without dialogue at the beginning of this year and had raised the financing for the low budget project by April to start shooting this summer. Helmer is using a small team where crew members have more than one job on the production. Helmer, for example, combined the tasks of director, screenwriter and producer with sound man and stills photographer.
The German-Georgian co-production between Helmer's Berlin-based Veit Helmer Filmproduktion and Abesadze's Natura Film in Tbilisi received backing from the pan-European co-production fund Eurimages and Medienboard Berlin-Brandenburg and has three German public broadcasters - SR, WDR and BR – from the ARD network onboard as well as the Sky Deutschland pay TV platform.
Post-production on the film will take place in Berlin and Helmer is "currently in talks" with sales agents to take on the film.
The German theatrical release is planned for later next year by Frankfurt-based distributor jip film & verleih, which has handled releases as Teona Strugar Mitevska's God Exists, her Name Is Petrunya, Jakob Zapf's Eine Handvoll Wasser, Aboozar Amini's documentary Kabul, City in The Wind, and Vietnamese filmmaker Ash Mayfair's debut The Third Wife.