Global Screen has picked up worldwide distribution rights to animated family film.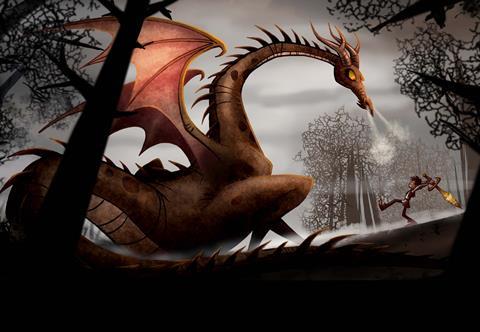 The first images from animated feature Trenk, The Little Knight will be shown by Global Screen at the American Film Market (AFM) this week.
The film is based on the eponymous children's books by Kirsten Boie and subsequent TV series.
Character design has been underway since May 2013 and delivery is set for autumn 2015.
The German-Austrian production is lead-produced by Blue Eyes Fiction GmbH & Co. KG, with the help of Corinna Mehner (Lilly the Witch 1 & 2). WunderWerk, Dor Film, Universum Film and ZDF are co-producing while Universum Film will also distribute the feature in German and Austrian cinemas.
The adventure follows nine-year-old Trenk, who dreams of becoming a real knight. With the help of his friends – a little piglet, young lady Thekla and juggler boy Momme Mumm – Trenk overcomes all odds and defeats a dragon to free his family from the rule of a feudal lord.
Munich-based sales company Global Screen recently secured sales of two animation feature films. Richard the Stork has sold to CIS (Cinemax), Middle East (Gulf), Portugal (Lusomundo) and India/Philippines (Pictureworks), while deals with China (Bona Entertainment), South Korea (Woo Sung Entertainment) and Poland (Kino Swiat) were announced earlier this year.
The 3D animated featured is produced by Knudsen & Streuber Medienmanufaktur and Ulysses Filmproduktion in co-production with Walking the Dog, Melusiné Productions and Den siste skilling and will be ready for delivery in late 2015. It tells the story of a sparrow - raised by storks - who has to hitchhike with an owl and a parakeet to join his migrating flock in Africa.
Niko 2: Little Brother, Big Trouble, the sequel to Niko & the Way to the Stars, will now also be released in UK where Metrodome picked up the film, Czech Republic/Slovenia/Hungaria (Intersonic/Abbey Road), China (Flame) and Kolumbia (Babilla cine).
It had previously been released in France (Millimages), US (Grindstone/Netflix), CIS (MGN Films), Benelux (Bridge Rights), Poland (Kino Swiat), Germany (Universum Film) and other territories.
It is produced by Anima Vitae, Cinemaker, Ulysses Filmproduktion, A.Film Production and Magma Productions.