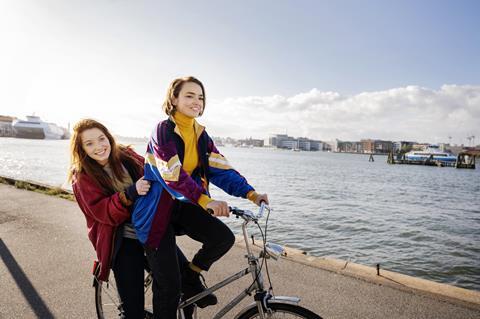 The 45nd Göteborg Film Festival will screen 200 films during its 10-day in person event (Jan 28-Feb 6), with a selection of 50 of those films available online in Sweden.
The festival will follow all pandemic security measures issued by Swedish authorities.
This year's opening film will be the world premiere of So Damn Easy Going directed by Christoffer Sandler, a coming-of-age love story about Joanna, an 18-year-old girl with ADHD who meets the charming and confident Audrey. The film, sold by TrustNordisk, competes in the lucrative Dragon competition.
The closing film will be Day By Day directed by Felix Herngren, a dramedy about five people who come together on a road trip from Sweden to Switzerland to honour an elderly man's last wishes.
Following innovations in past years like the offering screenings inside coffins and in a gynecologist's chair, and last year's isolation cinema (which sent one viewer to watch films on her own in a remote lighthouse), Goteborg this year launched The Hypnotic Cinema, which will see brave audience members allow themselves to be part of mass hypnosis in the cinema for three chosen films. A hypnotist will transform the audience's state of mind in accordance with the mood and theme of the film. After the screening, the hypnotist will break the hypnosis.
Honorees will include Italian filmmaker Luca Guadagnino, who will receive the Honorary Dragon Award and give an in-person talk after a Call Me By Your Name screening.
The 2022 Nordic Honorary Dragon Award will go to Swedish actress Rebecca Ferguson, who will attend online. She recently starred in Dune and will soon appear in the seventh and eighth installments of Mission: Impossible.
Other filmmakers who plan to attend in person include Radu Jude, Bille August, Juho Kuosmanen, Laura Wandel, Eskil Vogt, Valdimar Johannsson, Lucile Hadzihalilovic and Eva Husson.
The Dragon Award Competition, for best Nordic film (worth $44,000)
As In Heaven by Tea Lindeburg (Den)
Compartment No.6 by Juho Kuosmanen (Fin/Est/Rus)
Lamb by Valdimar Jóhannsson (Ice/Swe)
The Innocents by Eskil Vogt (Nor/Den/Swe)
So Damn Easy Going by Christoffer Sandler (Swe/Nor)
Heartbeast by Aino Suni (Fr/Fin/Ger)
Excess Will Save Us by Morgane Dziurla-Petit (Swe)
Maya Nilo (Laura) by Lovisa Sirén (Swe/Fin/Bel)
Nordic Documentary Competition (worth $27,000)
Golden Land by Inka Achté (Fin/Swe/Nor)
Name of the Game by Håvard Bustnes (Nor)
Good Life by Marta Dauliūtė and Viktorija Šiaulytė (Swe/Lith/Fin)
A House Made of Splinters by Simon Lereng Wilmont (Den/Swe/Fin)
Love & Divorce by Maud Nycander (Swe)
Historjá - Stitches for Sapmí by Thomas Jackson (Swe)
Kandis for Life by Jesper Dalgaard (Den)
The Mission by Tania Anderson (Fin/Ger)
Ingmar Bergman Competition, for debut features of a dynamic or experimental nature
Utama by Alejandro Loayza Grisi (Bol/Uru)
Holy Emy by Araceli Lemos (Gr/Fr/US)
Full Time by Eric Gravel (Fr)
Vera Dreams of the Sea by Kaltrina Krasniqi (Kos/Alb)
Shankar's Fairies by Irfana Majumdar (Ind)
Silver Bird and Rainbow Fish by Lei Lei (US/Neth)
Mars One by Gabriel Martins (Bra)
Silent Land by Aga Woszczyńska (Pol/It/Cz)
International Competition
Aurora by Paz Fábrega (Costa Rica)
Brighton 4th by Levan Koguashvili (Geo/Rus/Bul/US/Mon)
Great Freedom by Sebastian Meise (Aus/Ger)
Playground by Laura Wandel (Bel)
Hit the Road by Panah Panahi (Iran)
A Tale of Love and Desire by Leyla Bouzid (Fr)
Captain Volkonogov Escaped by Natasha Merkulova & Alexey Chupov (Rus/Est/Fr)
Farha by Darin J. Sallam (Jor/Swe/KSA)
Boiling Point by Philip Barantini (UK)
Leave No Traces by Jan P. Matuszynski (Pol/Fr/Cz Rep)