RKSS to direct horror-thriller.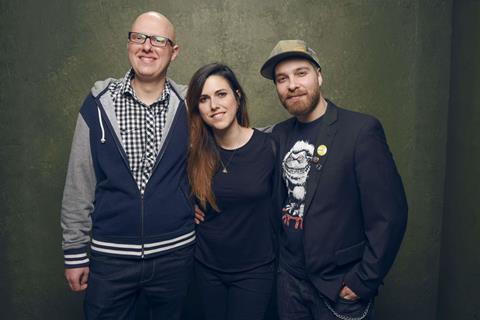 Gunpowder & Sky has partnered with Brightlight Pictures to produce Summer Of '84.
The horror-thriller is set in 1984 and centres on 15-year-old neighbourhood conspiracy theorist Davey Armstrong who suspects his police officer neighbour might be the serial killer all over the local news. He and his three best friends begin an investigation that soon puts them in danger.

François Simard, Anouk Whissell and Yoann-Karl Whissell of RKSS (Roadkill Superstar), known for 2015's Turbo Kid, will direct the film that is set to go into production this July for an end-of-year release date.
Shawn Williamson, CEO of Brightlight Pictures, and Jameson Parker are producing the film.
Matt Leslie co-produced and wrote alongside writing partner Stephen J. Smith. Their screenplay was featured on the 2016 'Blood List' selection of the best dark genre screenplays voted on by industry professionals.

"How could we not bet on a writer associated with Straight Outta Compton and the directors of Turbo Kid to tell a twisted tale about a peaceful community where a serial killer threatens to shatter the suburban dream," Van Toffler, CEO and co-founder of Gunpowder & Sky, said.

"It's a bold, unexpected story told by breakthrough filmmakers, and it's exactly the kind of novel film we want to make at Gunpowder & Sky."
"Summer Of '84 taps into the curiosity we all had as kids about what goes on behind closed doors," Smith said.
Leslie added: "While writing, we tried to evoke the feeling of a genuine 80s film - but give it a contemporary twist. We hope audiences find Summer Of '84 dangerous and haunting, as well as nostalgic and sincere."
RKSS said: "We were passionate about Summer Of '84 since the very first pitch. Our team fell in love with the script and felt like it was written just for us. There was no doubt in our mind that we needed to get attached to this amazing project and work with the talented writers who imagined it all."
Williamson said: "Everyone at Brightlight Pictures is ecstatic to be working with the brilliant team at Gunpowder & Sky to bring Matt and Stephen's bold and thrilling script to life. As soon as I read the script I knew Brightlight had to be a part of this film, and who better to direct it than the masterminds behind Turbo Kid - Roadkill Superstar!"
Gunpowder & Sky will release Jeff Baena's The Little Hours, starring Aubrey Plaza, Alison Brie, Dave Franco, Kate Micucci, John C. Reilly, Molly Shannon, Fred Armisen, Jemima Kirke and Nick Offerman, this summer in North America and key international territories, and is currently representing multiple series from Verizon's go90 originals slate.