Female film-makers donned sausage costumes to protest gender disparity in the Australian industry.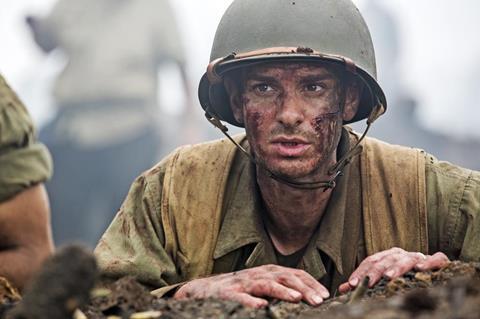 Scroll down for full list of winners:
Mel Gibson's Hacksaw Ridge was named best film of the year at the 2016 Australian Academy of Cinema and Television Arts (AACTA) awards, with the wartime drama taking nine of its 13 nominated awards, at an event that was also marked by activism on and off the stage.
Hacksaw Ridge was produced in New South Wales and financed through the Producer Offset and other state and federal government subsidies.
The film's star Andrew Garfield was named best actor for his portrayal of conscientious objector Desmond Dawes, and Hugo Weaving won best supporting actor (again, after winning in 2015 for The Dressmaker) for his role as Dawes' battle-scarred father.
Garfield accepted his award via video message from Los Angeles, and expressed "pure joy" at the win. He also singled out "Mel's brilliant ability to make everyone feel valuable to each other" on set.
In accepting his best director award, Gibson lauded local crews and funding agencies. "[The film] was a homegrown thing. I saw faces that I saw when I was kid, who were still at it. I am really honoured and choked up, I can't even talk."
Outside of the ceremony venue, a group of female filmmakers donned sausage costumes in a red carpet protest aimed at highlighting the gender disparity in the Australian screen industry.
The group, organised by the NSW chapter of Women in Film and Television (WIFT), chanted "end the sausage party!" and fell in unison before being hauled away by security guards.
The stunt - which was not mentioned in the television broadcast - was organised in the wake of Deakin University data analysis that found that 75% of the Australian male producers working across the last decade had only worked with one woman - or none at all - in a creative role on the project. The point was underscored by the fact that only two female screenwriters were involved in any of the 28 films submitted for consideration of 2016 AACTA Awards.
Elsewhere in the awards, domestic drama The Daughter won both of the female acting categories, for lead Odessa Young, and for supporting performer Miranda Otto.
Oscar winner Eva Orner's Chasing Asylum, a provocative polemic against Australia's controversial asylum seeker policies, was awarded best feature documentary. Orner took the opportunity to call on the federal government to repeal whistleblower legislation that imposes penalties of up to two years' imprisonment for unauthorised disclosures about Australia's offshore detention program.
"We can all go to gaol for the film we've made," she said. "This is a threat to all of us, including documentary filmmakers and storytellers who want to tell stories. "It's not a democracy."
Full list of winners:
AACTA LONGFORD LYELL AWARD
Paul Hogan AM
AACTA TRAILBLAZER AWARD
Isla Fisher
BYRON KENNEDY AWARD
Lynette Wallworth
FEATURE FILM
AACTA AWARD FOR BEST FILM
HACKSAW RIDGE Bill Mechanic, David Permut, Paul Currie, Bruce Davey
AACTA AWARD FOR BEST DIRECTION
HACKSAW RIDGE Mel Gibson
AACTA AWARD FOR BEST LEAD ACTOR
Andrew Garfield HACKSAW RIDGE
AACTA AWARD FOR BEST LEAD ACTRESS
Odessa Young THE DAUGHTER
AACTA AWARD FOR BEST SUPPORTING ACTOR
Hugo Weaving HACKSAW RIDGE
AACTA AWARD FOR BEST SUPPORTING ACTRESS
Miranda Otto THE DAUGHTER
AACTA AWARD FOR BEST ORIGINAL SCREENPLAY
HACKSAW RIDGE Andrew Knight, Robert Schenkkan
AACTA AWARD FOR BEST ADAPTED SCREENPLAY
THE DAUGHTER Simon Stone
AACTA AWARD FOR BEST CINEMATOGRAPHY
HACKSAW RIDGE Simon Duggan ACS
AACTA AWARD FOR BEST EDITING
HACKSAW RIDGE John Gilbert
AACTA AWARD FOR BEST SOUND
HACKSAW RIDGE Andy Wright, Robert Mackenzie, Kevin O'Connell, Mario Vaccaro, Tara Webb, Peter Grace ASSG
AACTA AWARD FOR BEST ORIGINAL MUSIC SCORE
TANNA Antony Partos AGSC
AACTA AWARD FOR BEST PRODUCTION DESIGN
HACKSAW RIDGE Barry Robison
AACTA AWARD FOR BEST COSTUME DESIGN
GIRL ASLEEP Jonathon Oxlade
DOCUMENTARY
AACTA AWARD FOR BEST FEATURE LENGTH DOCUMENTARY
CHASING ASYLUM Eva Orner
DOCUMENTARY (cont)
AACTA AWARD FOR BEST DIRECTION IN A DOCUMENTARY
HANSON: PLEASE EXPLAIN Anna Broinowski – SBS
SHORT FILMS
AACTA AWARD FOR BEST SHORT ANIMATION
OSCAR WILDE'S "THE NIGHTINGALE AND THE ROSE" Angie Fielder, Brendan Fletcher, Del Kathryn Barton
AACTA AWARD FOR BEST SHORT FICTION FILM
DREAM BABY Lucy Gaffy, Kiki Dillo