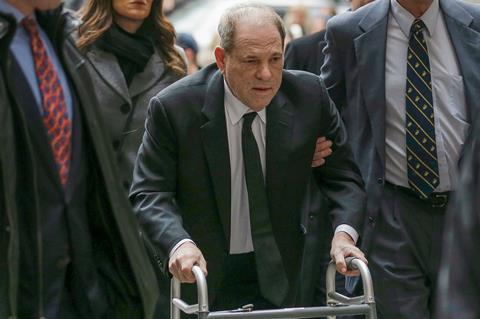 The long-awaited trial of Harvey Weinstein on charges of rape and sexual assault kicked off in New York on Monday (January 6) as prosecutors in Los Angeles filed fresh criminal charges against the former Hollywood mogul.

A frail-looking Weinstein, who could face life in jail if he is found guilty on five counts of rape and predatory sexual assault in the current trial, walked into the New York State Supreme Court with the support of a walking frame surrounded by bodyguards and lawyers.
He faced a media scrum and scores of protestors holding up signs proclaiming "Justice for Survivors" outside the Manhattan venue. They included the so-called Silence Breakers, a group of Weinstein accusers including actresses Rosanna Arquette and Rose McGowan.
The pair fronted a press conference across the street from the courthouse calling for justice to be served. "As we stand here at the beginning of a new year and a new decade, time's up on sexual harassment in all workplaces,' said Arquette.
The trial promises to be one of the most high-profile legal hearings in the history of the entertainment industry and is expected to last eight weeks, with the first two taken up with the business of empanelling the jury. Justice James Burke denied the defence request to keep the jury out of view during the trial, which one of Weinstein's legal team argued would be necessary to ensure a fair hearing.
Burke also denied a prosecution reuest for a gag order after Weinstein's attorney Donna Rotunno had criticised actress Annabella Sciorra - a Weinstein accuser – on CNN. However the judge told the defence team not to speak about witnesses publicly.
The trial comes some two years after multiple allegations of rape, sexual assault and sexual abuse against Weinstein were first made public in The New York Times and The New Yorker magazine in October 2017.
Since then, more than 80 women have come forward accusing Weinstein of non-consensual sexual acts. Weinstein denies any non-consensual sex.
The trial in New York revolves around the testimony of just two women. The first accuser, whose identity has not been revealed publicly, has accused Weinstein of raping her in a New York hotel room in 2013. The second accuser is Mimi Haleyi, a former production assistant on a TV series made by The Weinstein Company.
She has accused Weinstein of making several unwelcome advances on her, after a chance meeting during the European premiere of The Aviator in 2004, and then forcing himself on her orally during a meeting at his New York home.
Three so-called "bad actor" witnesses are also expected to testify about accusations that have not resulted in criminal charges but, according to prosecutors, point to a history of sexually abusive behaviour.
LA County District Attorney Jackie Lacey said on Monday that Weinstein has been charged with one felony count each of forcible rape, forcible oral copulation, sexual penetration by use of force and sexual battery by restraint. If found guilty he could face up to 28 years in prison.
The charges stem from two separate incidents over a two-day period in 2013. On February 18, 2013, it is alleged that Weinstein went to a hotel and raped a woman after pushing his way inside her room. The following evening, it is alleged he sexually assaulted a woman at a hotel suite in Beverly Hills.
"We believe the evidence will show that the defendant used his power and influence to gain access to his victims and then commit violent crimes against them," District Attorney Lacey said. "I want to commend the victims who have come forward and bravely recounted what happened to them. It is my hope that all victims of sexual violence find strength and healing as they move forward."
Prosecutors are recommending bail be set at $5m. The case remains under investigation by the Los Angeles and Beverly Hills police departments and the District Attorney's Bureau of Investigation.