Titles include Molly from British director Sally Potter (Ginger & Rosa) [pictured].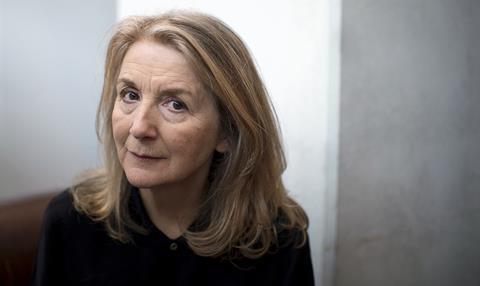 Scroll down for full line-up
The 12 projects that will make up this year's Holland Film Meeting Co-Production Platform (Sept 22-25) have been revealed and include titles from the UK, France and Germany among others.
Filmmakers this year include British filmmaker Sally Potter who will present her latest project, Molly.
Potter's films include Oscar-nominated Orlando (1992), starring Tilda Swinton; Rage, which competed for Berlin's Golden Bear in 2009; and her most recent feature, Ginger & Rosa (2012), which screened at Toronto and IFFR among other festivals.
Bulgaria's Maya Vitkova is back at HFM with upcoming project Love, following the success of her previous film Viktoria, which played in competition at Sundance and IFFR.
Serbian director Nikola Ležaić will present The Religion of Night Walks, his second feature length work after Tilva Ros, which was selected for Locarno and won the top prize at Sarajevo in 2010.
From Sweden, Carolina Hellsgård brings her coming-of-age project Sunburned, produced by Berlin-based NiKo Film. Her critically acclaimed first feature Wanja premiered at Berlinale 2015.
Irish brothers Rob and Ronan Burke will present comedy Bags and Trev Get Dates for the Debs. They previously made romantic comedy Standby, which was sold to more than 100 territories by Magnolia Pictures.
José Skaf is developing his new project Point Nemo, to be produced by Aquí y allí films - the outfit behind San Sebastian winner Magical Girl and Cannes Critics' Week winner Aquí y allá. Skaf's debut was Vulcania.
First features
The HFM Co-Production Platform will also present first feature film projects by three directors of award-winning shorts.
BAFTA nominee Fyzal Boulifa, two-time winner of the Cannes Director's Fortnight Illy Prize with The Curse (2012) and Rate Me (2015), will bring his French feature project Tangier Stories to Utrecht.
In addition, Croatia's Simon Bogojević Narath will pitch his ambitious project Illyricvm, set in Rome in 36 BC.
Russia's Philipp Yuryev, who competed at Sundance with his short film The Song Of The Mechanical Fish (2012), will present The Whale Hunter, the tale of a lovestruck teenager who embarks on a daring journey across the Bering Strait after falling in love with a US-based webcam model.
BoostNL
These join the 11 Dutch and international projects in development, and the three works-in-progress, already selected for the inaugural BoostNL programme, organized in collaboration with IFFR's CineMart.
Dutch project In Blue by Jaap van Heusden produced by Marc Bary from IJswater Film has also been selected and will take part in the work-in-progress session.
This means that a total of 27 projects at different stages of development will be up for assessment by European financiers, sales agents, distributors and co-production partners, as well as festival programmers and press during HFM 2016.
HFM Co-Production Platform 2016 selection
Bags and Trev Get Dates for the Debs (Ireland) - Directed by: Rob and Ronan Burke / Producer: John Wallace / Production company: Black Sheep Productions
Comrade Stalin Saved My Life (France) - Directed by: Kamila Kubiak and Olivier Patté / Producers: Maria Blicharska and Nicole Ringhut / Production company: BLICK Productions
Illyricvm (Croatia) - Directed by: Simon Bogojević Narath / Producers: Ankica Jurić Tilić and Ira Cecić / Production company: Kinorama
Imaculat (Romania) - Directed by: Kenneth Mercken / Producer: Marcian Lazar / Production company: Axel Film Echipamente
Love (Bulgaria) - Directed by: Maya Vitkova / Producer: Maya Vitkova / Production company: Viktoria Films
Molly (UK) - Directed by: Sally Potter / Producers: Christopher Sheppard and Kurban Kassam / Production company: Adventure Pictures
Point Nemo (Spain) - Directed by: José Skaf / Producers: Pedro Hernández Santos / Production company: Aquí y Allí Films
The Religion of Night Walks (Serbia) - Directed by: Nikola Ležaić / Producer: Jelena Mitrović / Production company: Film House Baš Čelik
Sunburned (Germany) - Directed by: Carolina Hellsgård / Producers: Nicole Gerhards and Johanna Aust / Production company: NiKo Film
Tangier Stories (France) - Directed by: Fyzal Boulifa / Producers: Louise Bellicaud and Claire Charles-Gervais / Production company: In Vivo Films
The Twins (Poland) - Directed by: Eva Neymann / Producer: Dariusz Jabłoński / Production company: Apple Film Production
The Whale Hunter (Russia) Directed by: Philipp Yuryev / Producers: Alexey Uchitel and Anna Shalashina / Production company: Rock Films
Click here for the selection of the additional 14 earlier announced BoostNL co-productions.