EXCLUSIVE: Hyde Park International (HPI) president Eric Christenson will commence sales in Cannes on the Dolph Lundgren and Tony Jaa revenge thriller.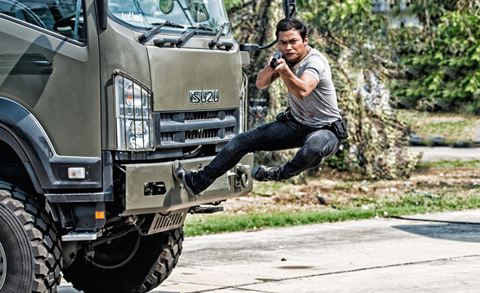 Beautiful Boxer director Ekachai Uekrongtham recently completed principal photography on Skin Trade in Thailand, based on a screenplay by Gabriel Dowrick, Steven Elder and Lundgren.
The film stars Lundgren as a New York detective who teams up with a Thai counterpart played by Jaa after a Serbian crime lord murders his family. In the process the pair attempt to tear down the villain's human trafficking operation.
The cast includes Ron Perlman, Michael Jai White and Peter Weller. The film recently shot in Thailand under the auspices of SC Pictures International and SC Films Thailand and Lundgren produces with Craig Baumgarten and SC Pictures International CEO Mike Selby.
"We were blown away when we saw the footage of Skin Trade," said Christenson, who will show nine minutes of footage to buyers on the Croisette.
"Dolph is at the top of his game, and Tony Jaa has an amazing presence that shows why he has become the preeminent Asian action star of our generation. We look forward to bringing Tony to the world in one of his first English-language roles."
At the market HPI will screen the feel-good adventure Midnight Sun from director Roger Spottiswoode, Courteney Cox's feature directorial debut Just Before I Go and acclaimed crime drama Every Secret Thing starring Diane Lane, Elizabeth Banks, and Dakota Fanning.
The sales slate includes 99 Homes starring Andrew Garfield and Michael Shannon directed by Ramin Bahrani, The Haunting Of Eloise from Robert Legato and Life Of Crime starring Jennifer Aniston, based on the Elmore Leonard bestseller.