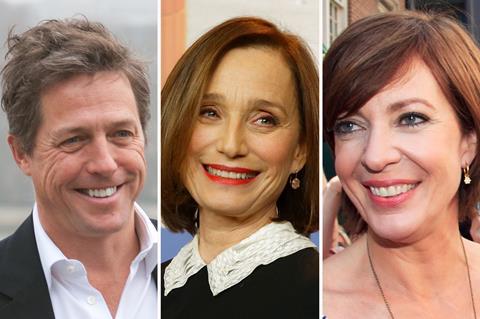 The British Academy of Film and Television Arts (Bafta) has announced that actors Hugh Grant, Kristin Scott Thomas and Allison Janney will receive 'A Life in Pictures' career retrospectives.
The events, which are part of a long-running series of onstage interviews with some of the film world's leading talent, will take place from 9 December to 13 December at Bafta's headquarters in London.
Chris Nolan and Hugh Jackman have already been confirmed to take part in Bafta Life In Pictures events this year.
Hugh Grant will discuss his career on Saturday 9 December. The Bafta-winning actor first gained international attention with his Bafta and Golden Globe winning performance in Four Weddings And A Funeral (1994). Since then he's performed in such films as Sense and Sensibility (1995), Notting Hill (1999), Bridget Jones' Diary (2001), About a Boy (2002), Florence Foster Jenkins (2016) and most recently Paddington 2 (2017) as the villain Phoenix Buchanan.
On Sunday 10 December Kristin Scott Thomas, who also won a Bafta for her performance in Four Weddings And A Funeral (1994), will speak on Sunday 10 December. She also received Bafta and Oscar nominations for her role in 1996 war drama The English Patient. More recently, Scott Thomas appeared in I've Loved You So Long (2009), Nowhere Boy(2009) and The Party (2017). Scott Thomas also stars as Clementine, the wife of Prime Minister Winston Churchill (Gary Oldman) in her latest film, Darkest Hour, which is slated for a January 2018 release in the UK.
Award-winning actress Allison Janney will share her insights on Wednesday 13 December. Janney CV includes Emmy- winning television roles on The West Wing, Masters Of Sex and Mom. The five-time Golden Globe nominated actress has also appeared in American Beauty (1999), The Hours (2002), Juno (2007), The Help (2011), The Way Way Back (2013) and The Girl on the Train (2016). Allison Janney will next appear in the biopic I, Tonya (2017) as the mother of famed US figure skater Tonya Harding.