Lionsgate to launch The Hunger Games theatrical experience in a new theatre next to London's Wembley Stadium.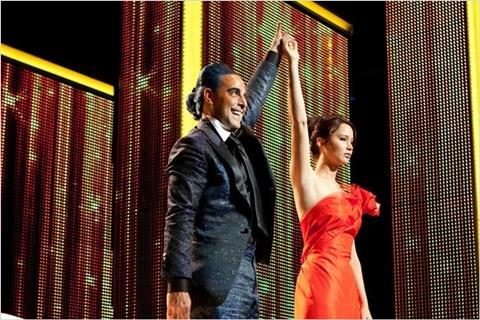 The Hunger Games is to hit the stage in summer 2016 as a "theatrical experience".
Lionsgate has teamed with with Dutch media company Imagine Nation and US-based Triangular Entertainment to bring the young adult franchise to the stage using "innovative and immersive staging techniques", the companies announced today.
The production will launch in a new purpose-built theatre in Wembley Park next to Wembley Stadium and Arena in London.
​It will be produced by Broadway producer Robin de Levita, co-founder of Imagine Nation, along with UK promoter Harvey Goldsmith, Triangular Entertainment's Warren Adams and Brandon Victor Dixon of WalkRunFly Productions and entertainment executives Robert Harris and R&R Media's Gary Ricci.
De Levita recently created innovative presentation formats for two productions in Holland including Dutch musical Soldier of Orange, in which the audience sits in a 360-degree rotating auditorium that turns from set to set.
The other production, ANNE is based on The Diary of Anne Frank and also uses rotating life-sized stage sets.
Lionsgate chief marketing officer Tim Palen said the show would offer "world-class production values and state-of-the-art technology to provide a uniquely immersive experience".
​De Levita added: "The theatre is a fantastic medium to bring the many meaningful layers of Suzanne Collins' writing to life."
The first two instalments of the blockbuster Hunger Games franchise have already grossed more than $1.5bn at the worldwide box office.
Suzanne Collins' bestselling trilogy of books has already sold more than 80 million copies around the world and has spent six years on the New York Times list.
The next instalment of the franchise, The Hunger Games: Mockingjay - Part 1, will be released worldwide on Nov 21, directed by Francis Lawrence and starring Jennifer Lawrence, Josh Hutcherson, Liam Hemsworth and Woody Harrelson.