The sequel's £2.75m opening is biggest ever for a comedy in UK.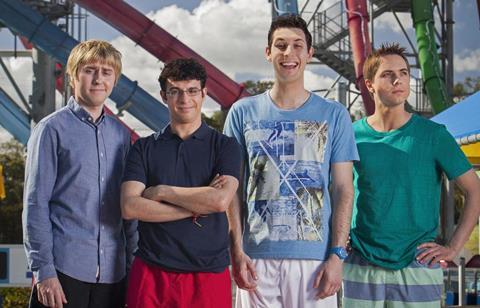 The Inbetweeners 2 debuted to a whopping £2.75m ($4.53m) from 495 venues yesterday, according to Rentrak, making it the biggest opening for a comedy in the UK and beating predecessor The Inbetweeners Movie, which made £2.61m ($4.39m) in 2011.
The first day total - boosted by the lure of Orange Wednesday - indicates that demand for the second instalment in the franchise could be even stronger than the first, which grossed a record £45m ($77.5m) in the UK and made $88m worldwide.
The opening is the third-biggest Wednesday opening in the UK behind Harry Potter and the Half Blood Prince and Lord of the Rings: Return of the King.
Harry Potter and the Deathly Hallows Part 2 raked in the UK's biggest-ever opening weekend in 2011 with £23.8m.
The first film update of the hit E4 TV series posted an opening weekend of £13.2m ($22.2m) including previews, making it the biggest-ever opening for any independently produced UK film. The race is now on to beat that impressive total.
The Inbetweeners 2 sees school friends Will, Simon, Jay and Neil reunite in Australia. Original cast Simon Bird, James Buckley, Blake Harrison and Joe Thomas all return.
Written and directed by series creators Damon Beesley and Iain Morris, and produced by Spencer Millman, the film is produced by Bwark Productions - a Zodiak Media company - and co-financed with Film4.
Entertainment Film Distributors are distributing the film in the UK and Ireland.