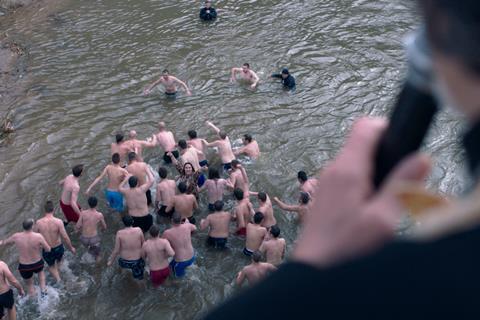 Paris-based sales company Pyramide International has secured major international deals on on North Macedonian director Teona Strugar Mitevska's award-winning drama God Exists, Her Name is Petrunya.
The film has just won the European Parliament's Lux Prize on Wednesday and the new Arab Critics' Awards for European Films over the weekend. It premired at the Berlinale.
European deals include to Austria (Polyfilm), Belgium (Cinema Palace), Denmark (Ost For Paradis), Germany (Jip Film), Greece (Ama Films), Hungary (Cirko), Italy (Teodora), Poland (Aurora Films), Romania (Bad Unicorn), ex-Yugoslavia (MCF), Spain (Karma Films), Switzerland (Trigon), Sweden (Folkets Bio), HBO has acquired Eastern European TV rights.
102 Distribution has picked up US rights while AZ Films has taken Canada.
In Latin America, it has sold to Brazil (Pandora Filmes) and Colombia (CInecolombia),
In the rest of the world, it has been acquired for Australia (Palace Films), CIS (Ruscico), Japan (New Select), Turkey (Bir Films) as well as the Middle East and North Africa (Moving Turtle). Beiing-based Hualu has picked up Chinese VoD and festival rights.
"We've over the moon about these prizes, especially as the film is soon to come out in a number of key territories, such as Spain, and has theatrical releases lined up for 2020, notably in Japan and the US," said sales chief Agathe Maurac.
God Exists, Her Name Is Petrunya is the tale of a woman who sparks a scandal when she attempts to participate in a traditionally all-male religious ritual. The film won the Fipresci prize at the Motovun Film Festival over the summer while its star, big screen debutant Zorica Nusheva, won best actress at the Seville European Film Festival earlier this month.