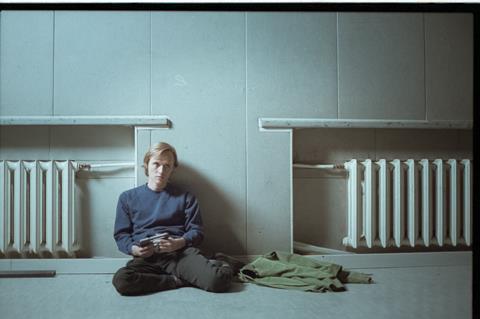 Jakub Piątek's feature debut Prime Time was the winner of the second annual Screen International Best Pitch award presented as part of this week's Polish Film Days which ran as a virtual event from July 27-29.
Prime Time is inspired by previous cases of hostage-takings that took place in a TV studio in front of live cameras. The screenplay is written by Piątek and Lukasz Czapski and was developed at Torino Film Lab Extended and New Horizons Studio+ last year.
The €1m project is a co-production between Warsaw-based Watchout Studio with Polish broadcaster TVN. It is the third collaboration between producer Jakub Razowski and Piątek after the director's 2014 medium-length documentary One Man Show and 2018 short Users which premiered at the 2019 Slamdance Film Festival.
Bartosz Bielenia, the star of Jan Komasa's Oscar-nominated drama Corpus Christi, is playing the young armed man who locks himself in a TV studio with two hostages in order to communicate a message to the world in prime time.
The film is now shooting in Warsaw until August 23.
Watchout Studio has produced four features to date: Big Love (2012), Gods (2014), The Art Of Loving (2017) and the English- language Polish spy film The Coldest Game (2019) starring Bill Pullman.
Prime Time was one of eight works in progress presented in two online sessions to an audience of international sales agents, distributors and festival programmers. The 2020 line-up included Maciej Barczewski's The Champion about the legendary boxer Tadeusz 'Teddy' Pietrzykowski who became a boxing champion during his three years in the Auschwitz-Birkenau concentration camp, Piotr Chrzan's comedy drama Masters Of The Planet, and Katarzyna Klimkiewicz's 1960s-set musical Autumn Girl (working title) described by the director as "All That Jazz meets The Umbrellas Of Cherbourg".
The ninth edition of the Polish Films Days also served as a showcase for the online pitches of 10 new film projects to international potential co-producers, film funders, sales agents, distributors and festival representatives. The projects ranged in budgets this year from writer-director Grzegorz Mołda's €160,000 feature debut I Wanna Be Yours which was financed through the Polish Film Institute's micro-budget scheme and will begin shooting for Izabela Igel's Harine Films from September 2020, to writer-director Maciej Kawalski's €2.3m feature debut Gentlemen Of Zakopane. The latter is a period action film inspired by the mood of films including The Grand Budapest Hotel andGuy Ritchie's Sherlock Holmes mini-franchise.
Three of Poland's hottest stars, Tomasz Kot (Cold War), Borys Szyc (Spoor) and Maciej Dorocinski (Jack Strong), will star in Gentlemen Of Zakopane. The black comedy is set in the mountain retreat of Zakopane. It is produced by Agnieszka Dziedic of Koi Studio and co-produced by Poland's Aurum Film. Kino Swiat has Polish distribution rights. Principal photography is being planned for the first quarter of 2021.
Additionally, producer Kuba Kosma of Warsaw-based Serce and writer-director Łukasz Ronduda presented their third collaboration, Fears, inspired by the life of the visual artist and LGBT activist Daniel Rycharski, which received one of the No Problemo Music Awards at the virtual awards ceremony on Wednesday evening.
Ronduda, who is also a curator at the Museum of Modern Art in Warsaw, said the project had been in development for two years and was now very topical given political situation in Poland
Dawid Ogrodnik is set to star in the €1.3m drama with Andrzej Chyra. Backing has come from the Polish Film Institute and private equity investors, with Warner Bros. set to handle distribution in Poland. Shooting is due to start this autumn with delivery in spring 2021.
Meanwhile, director Anna Kazejak of fledgling production outfit Friends With Benefits Studio (FWB), said 70% of the financing was now in place for her feature Fucking Bornholm. She said FWB was looking for a Danish partner as shooting will take place on the Danish island of Bornholm. She also hopes to cast Danish and Swedish actors in supporting roles.
Busy event
Further awards handed out at the Polish Days' virtual ceremony included a Polish Film Institute-sponsored EAVE scholarship for producer Anna Stylińska of Harine Films to take part in the next year-long producer workshop, and the ColorOffOn Film Postproduction Award and No Problemo Music Award for documentary filmmaker Paweł Łoziński's Balcony Movie. Step Into My Frame which had been presented in the Works In Progress section.
Polish Days, organised by the New Horizons Association and the Polish Film Institute, attracted over 170 Polish and international participants to its first digital edition. The industry event normally runs as part of the New Horizons International Film Festival but the festival has postponed until November in the hope it can run as a physical event.
As well as pitching sessions, the online Polish Days included one-to-one consultancies with the Polish Film Institute on the cash rebate and with the organisers of the Kids Kino Industry co-production forum.
Last year's Best Pitch Award winner, Leszek Dawid's Broad Peak is now in post-production after shooting in the French Alps in January. Producers East Studio are now looking for an international sales agent for the mountaineering drama which was presented at the First Cut+ promotion consultancy during the online version of this year's Karlovy Vary International Film Festival. Polish distributor Kino Swiat plans to release Broad Peak at the beginning of January 2021.
The 20th edition of the New Horizons International Film Festival will be held in combination with the American Film Festival in Wroclaw from November 5-15. 2020.