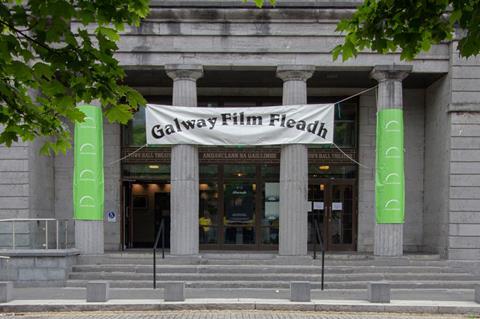 The Galway Film Fleadh's marketplace Galway Film Fair is to remain virtual this year, following its first online edition in 2020.
The main industry arm of Ireland's Fleadh, the fair will run concurrently with this year's festival (July 20-25) and will see more than 500 pre-scheduled business meetings held on the fair's online portal. This year's Fleadh is a hybrid of virtual screenings and events, cinema screenings and an outdoor cinema.
Sales agents, distributors, broadcasters and producers from 33 countries worldwide will attend, including executives from BBC Film, Film4, Carnaby International, Independent Film Co., Celluloid Dreams, UMedia, Magnolia Pictures and XYZ Films.
Galway will again partner with London-based sales and film finance company Bankside Films on an award for the best project at this year's market.
Beyond the marketplace, Galway will host two industry webinars presented by the fair and the WRAP Fund (Western Region Audiovisual Producers), supported by Screen Ireland and Screen Skills Ireland in association with Screen Producers Ireland.
One webinar covers the future of the Irish cinema experience, with the other focusing on the introduction of the Section 481 regional development uplift, which aims to encourage production in Ireland's regions.
As well as these industry events, there will be 'In Conversation' interviews with actor Gabriel Byrne, whose Death Of A Ladies' Man screens at this year's festival, screenwriter Mark Fergus (Iron Man) and director Mark Cousins (Women Make Film: A New Road Movie Through Cinema).
This year's annual pitching competition will give finalists the opportunity to pitch to a virtual panel of industry professionals and an audience. The winner will receive a cash prize of €3,000.
Other panel events will include a global overview of the newly launched Creative Europe Programme 2021-2027. Women in Film and Television Ireland (WFTI) and the Writers Guild of Ireland (WGI) will host a panel examining the intersection of gender and class in the Irish screen industries.