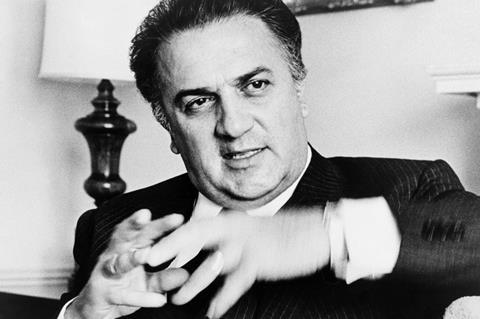 Istituto Luce – Cinecittà has come on board the much-delayed Academy Museum Of Motion Pictures project in Los Angeles as a founding supporter.
The involvement of the Italian arts institution will come as a relief for organisers of the ambitious Los Angeles venture, whose launch has been delayed several times due to a struggle to attract funding.
As part of the agreement the museum will host an annual series of Italian films and accompanying public programmes over five years, curated by the partners.
The first will be a centennial tribute to Federico Fellini (1920–1993), which will travel to major museums and film institutes in Europe, Asia, South America, and the United States.
Museum brass said in June they were delaying the opening of the venue until 2020, after previously targeting a year-end 2019 unveiling.
Plans for the museum were first announced in 2012 on an original 2017 launch schedule. Last December the committee unveiled the first details of the exhibitions that will reside within the venue, situated in the Miracle Mile district of Los Angeles on the site of the restored Saban Building. The museum costs an estimated $388m.
The partnership was announced on Tuesday (8) at first Academy Of Motion Picture Arts and Sciences member event in Rome, co-hosted by Istituto Luce – Cinecittà.
"We are pleased to partner with Istituto Luce - Cinecittà to bring iconic Italian cinema to movie fans visiting the Academy Museum from around the world," said Academy CEO Dawn Hudson. "Federico Fellini was my first love in international film—his work defines the art of cinema. And through the years, many more of Italy's great films and directors will be featured."
President and CEO of Istituto Luce - Cinecittà Roberto Cicutto said, "We are proud of our friendship with the Academy of Motion Picture Arts and Sciences, which shares our deep commitment to preserving films and film heritage, and we are delighted to align ourselves with the Academy Museum. This new, Renzo Piano-designed, institution is certain to become one of the great international beacons for everyone who loves film. We look forward to launching the series in Los Angeles next year."
Bernardo Rondeau, head of film programming at the Academy Museum, added, "The Academy Museum is committed to celebrating the highest achievements in global cinema. We are excited to collaborate with Istituto Luce - Cinecittà for this five-year series of Italian cinema. We will provide an Academy experience to present each of the films in this series.