Secure And Hold: The Last Days Of Roger Ailes, The Purge on expanded roster.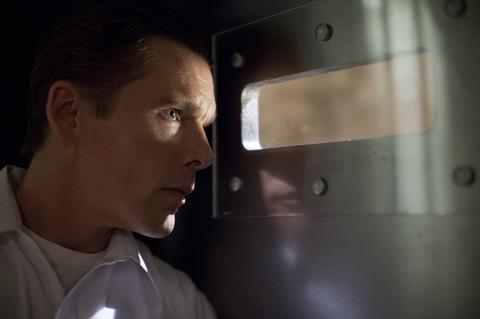 Jason Blum's content empire took another step forward this week with the announcement that the prolific producer has partnered with the British TV powerhouse.
ITV Studios has acquired a 45% stake in Blumhouse Television as it builds its US scripted TV studio operations.
The new studio will finance and produce original scripted and unscripted 'dark' genre programming and look to partner with ITV Studios Global Entertainment on global distribution of future projects.
Heading the slate is Secure And Hold: The Last Days Of Roger Ailes, a limited series from Tom McCarthy and journalist Gabe Sherman about the notorious former Fox News chief that is set up at Showtime.
McCarthy is shepherding the series John Harrington Bland, Sherman and Jennifer Stahl are writing and will serve as co-executive producers.
The roster includes The Purge, a co-production with Universal Cable Productions based on the film franchise (pictured) from creator James DeMonaco that Blumhouse Productions made with Universal Pictures.
DeMonaco will oversee the series, which is described as cross-genre show that will air on USA and Syfy. Platinum Dunes and DeMonaco's longtime producing partner Sebastien K. Lemercier are executive producers on the series.
Co-presidents Marci Wiseman and Jeremy Gold will continue to lead the television operation and have extended their long-term deals as part of the partnership with ITV.
The pair will continue to report to Blum and Blumhouse president Charles Layton, and all join ITV on the board of the expanded TV operation.
Blumhouse Television launched in 2012 and has won Emmys for The Jinx and The Normal Heart, produced Cold Case Files on A&E and 12 Deadly Days for YouTube Red. It also serves as executive producer the upcoming Sharp Objects for HBO, based on Gillian Flynn's best-selling novel, starring Amy Adams.
"Over the past few years, we have been working to build Blumhouse Television into an independent studio so we can have the autonomy to work with the best storytellers and give them freedom to create the best dark genre programming," Blum said.

"It is a dream that day is here. Julian and his team at ITV are remarkable partners and we can't wait to kick things off with The Purge and Secure And Hold. We are excited that with the launch of this new studio, we are expanding our partnership with NBCUniversal by growing The Purge franchise into a television series and are grateful for their incredible support of Blumhouse overall."

Julian Bellamy, managing director, ITV Studios said: "Jason and his team have an unrivalled reputation in the suspense and thriller genres, delivering hit after hit at the US and international box office.

"They have very quickly established an enviable track record by applying these skills to television and we are delighted to come on board for the next stage of the company's exciting development. This partnership is another step forward in ITV Studios building a global scripted business of scale."

Wiseman and Gold added: "We joined Blumhouse Television to help Jason, Charles and the team transform the company into an independent studio and we are grateful to be well on our way.

"We are excited to build on the Blumhouse brand for genre storytelling by creating scripted and unscripted shows that scare us, thrill us and move us. At Blumhouse Television, we are not just telling stories about monsters under the bed, but also the things that keep us awake at night."
Blumhouse's film division is riding high on global hits Get Out and Split and the features roster has generated more than $2.8bn worldwide. Hits include The Purge, Paranormal Activity and Insidious. Blum also produced Whiplash.
Carmen Carpenter of Evolution Media Capital acted as financial advisor to Blumhouse.